Land of Mine (Under Sandet)
(2017)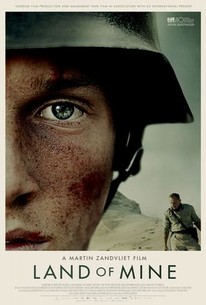 TOMATOMETER
AUDIENCE SCORE
Critic Consensus: Land of Mine uses an oft-forgotten chapter from the aftermath of World War II to tell a hard-hitting story whose period setting belies its timeless observations about bloodshed and forgiveness.
Land of Mine (Under Sandet) Videos
Land of Mine (Under Sandet) Photos
Movie Info
In the aftermath of World War II, a group of surrendered German soldiers are ordered by Allied forces to remove their own landmines from the coast of Denmark. Directed by Martin Zandvliet, Land of Mine made its world premiere at the 2015 Toronto International Film Festival.
News & Interviews for Land of Mine (Under Sandet)
Critic Reviews for Land of Mine (Under Sandet)
Audience Reviews for Land of Mine (Under Sandet)
Hard to watch at times, brutal, and thought provoking too. This film shows the dangers of landmines and how costly war can be.
Ian Walker
Super Reviewer
DAS HURT LOCKER - My Review of LAND OF MINE (3 Stars) One of this year's Academy Award nominated Foreign Language films has repurposed its title for certain audiences and it has left me baffled. Originally called UNDER SANDET (translation: UNDER THE SAND), the story of post WW2 German soldiers held as prisoners of war until they can clear the mines they had planted along Denmark's west coast, the U.S. version bears the title: LAND OF MINE. Seriously? That's the sort of bad pun my readers have come to expect from my review titles, but its use here undermines a serious yet flawed piece of filmmaking. Writer/Director Martin Zandvliet, along with his cinematographer Camilla Hjelm bring a sweeping, widescreen beauty to this harrowing, deeply felt, excruciating story. On a remote, sandy coastline, Danish Sgt. Sgt. Carl Rasmussen (a very good Roland Møller), oversees a small troupe of mostly Aryan teenage prisoners. He brutalizes and starves them while demanding they work faster and faster to defuse the mines. His lack of warmth feels appropriate considering the horrors the Nazis brought to his homeland, but the film keeps reminding us of the prisoners' innocence, or at the very least, their lack of ideology. More on that later. For much of the running time, we helplessly watch, knowing that at any moment a mine will surely explode. Think of it as THE HURT LOCKER with lesser technology and more blonde hair. Taking a page from Alfred Hitchcock's manual of suspense, Zandvliet builds intense dread as these kids crawl along the beach poking beneath the sand with sticks. Because we know what lies beneath, it's impossible not to watch this film with at least one hand covering your face. I almost walked out during several key moments, unsure that I could take it anymore. The seriousness of the subject matter and the fine performances all around, however, convinced me to stay. But man is it rough to watch a bomb tear apart a person. In one scene, Rasmussen slaps the shit out of one of the kids, who seems to simultaneously laugh and cry over his beating. In others, the sergeant acts very tenderly towards his charges. He even laughs when one of the soldiers, in a very movie star quality performance by Louis Hofmann, fakes him out with a bomb noise, which seems wildly inappropriate, but #gallowshumor, right? Rasmussen's mixed feelings echo the themes of the film. How can we reconcile our warm feelings for these kids knowing what their fellow soldiers, or perhaps even they themselves, did during the war? Unfortunately, Zandvliet eschews this political conundrum in favor of the sentimental "people are people" theme. I kept thinking how much richer this film would have been if some of the kids still espoused anti-semitic feelings or if we learned that some had committed crimes against humanity. Instead, we learn of their post-war hopes and dreams of rebuilding Germany and getting on with their lives. We delight in their playing soccer on the beach and we sympathize with them when they go without food. This lack of complexity prevents the film from truly soaring to another level. It's fine, suspenseful, gut-wrenching filmmaking, but its point of view left me confused. Yes, it's entirely possible that many German soldiers had little choice but to serve. I understand how under Hitler's dictatorship, the citizens had to follow orders, but his ascendancy came from a groundswell of public sentiment. Hell, half of our own country supports the actions of a President the other half despises, and yet we're all responsible, in a way, for his rise to power. In one particularly, harsh scene, a group of British soldiers beat up and urinate all over one of the prisoners. He takes the humiliation, we're led to think, in the manner of Jesus dying for our sins. He gets it. The Nazis sucked. They had it coming. LAND OF MINE, however, hedges its bets by wanting us to forget about such vengeful feelings and hope that acts of kindness lay the groundwork for a better future. A wonderful thought, if only life were so simple. This good film could have achieved greatness had it given us that extra layer of painting one or two of its prisoners as Nazi sympathizers. Still, this missed opportunity merits a look, a cowered look, but a look nonetheless.
Glenn Gaylord
Super Reviewer
Land of Mine (Under Sandet) Quotes
There are no approved quotes yet for this movie.
Discussion Forum
Discuss Land of Mine (Under Sandet) on our Movie forum!