Le Gai Savoir (Joy of Learning) (Joyful Wisdom)
(1969)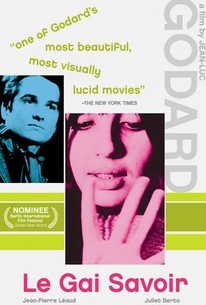 AUDIENCE SCORE
Critic Consensus: No consensus yet.
Movie Info
This experimental minimalist drama by Jean-Luc Godard is a totally plotless exploration of film language. The setting is a darkened soundstage with only a single light to illuminate two actors who discuss philosophy. The philosophy reflects the director's most radical thoughts about making films. When not discussing films, the two play word-association games. Though named Le Gai Savoir, this film is not based on the book of the same title by Friedrich Nietzsche but, very loosely, on Jean Jacques Rousseau's Emile. ~ Sandra Brennan, Rovi
Cast
Critic Reviews for Le Gai Savoir (Joy of Learning) (Joyful Wisdom)
All Critics (2) | Top Critics (1) | Fresh (2) | Rotten (0) | DVD (1)
Profuse and dizzying with discourse, abstruse analysis, and word association, Le Gai Savoir posits that all communication is suspect, that the spoken word is "the enemy."
Audience Reviews for Le Gai Savoir (Joy of Learning) (Joyful Wisdom)
Hey, Godard: Samuel Beckett wants his ideas back. But whereas Beckett can sustain a existential point over the course of a two-hour drama by focusing on character, Godard is more concerned with getting a philosophical message across. May I suggest an essay? In a written medium the message can be properly digested, criticized, and understood, but Godard throws so much at us during this film that we end up lost in the mire of over-intellectualizing; it becomes mental masturbation, and by the end of the film, I feel like my brain has been fucked into silly putty. I try to comprehend him, but I find myself being bombarded by someone who thinks he has something to say but doesn't want me to listen. My tour of Godard films is almost over. Thank God.
Jim Hunter
Super Reviewer
Le Gai Savoir (Joy of Learning) (Joyful Wisdom) Quotes
There are no approved quotes yet for this movie.