Salt of This Sea (Milh Hadha al-Bahr)
(2010)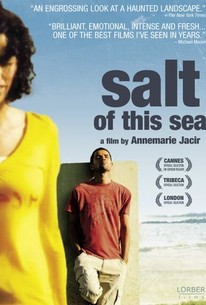 Salt of This Sea (Milh Hadha al-Bahr) Photos
Movie Info
The first feature film from Palestine by a female director, Salt of this Sea is the politically and emotionally explosive story of Soraya (Suheir Hammad), a Brooklyn-born woman of Palestinian lineage who comes to Israel to search for the land and ancestral home near Jaffa from where her grandparents were ejected 60 years ago. Once she arrives, reality strikes hard and her mission to claim what is hers and fulfill her lifelong dream to "return" to Palestine is obstructed at every turn. Having discovered that her grandfather's bank account was frozen and seized in 1948, she goes to the new Ramallah branch of the bank to claim the funds. Frustrated and deluded when her demands are rebuffed, she and her new Palestinian boyfriend Emad decide to take control of their own destinies by every means possible - even if it means breaking the law. -- (C) Lorber
News & Interviews for Salt of This Sea (Milh Hadha al-Bahr)
Critic Reviews for Salt of This Sea (Milh Hadha al-Bahr)
Audience Reviews for Salt of This Sea (Milh Hadha al-Bahr)
½
"Salt of This Sea" starts with Israeli customs officials more than thoroughly questioning and searching Soraya(Suheir Hammad) due to her Palestinian heritage and intent to visit her friend Corinne(Sylvie Wetz) in Ramallah. Eventually they let her through but might not have even let her into the country if they had known her intent to exercise her personal Right to Return and stay permanently while failing to reclaim some of her late grandfather's money. Wanting to go in the opposite direction is Marwan(Riyad Ideis), a wannabe filmmaker, and Emad(Saleh Bakri) who has a scholarship to a university in Candada, only needing a visa to ensure he never has to look at another soldier again. To be fair, "Salt of This Sea" can be rather rough and pedantic at times. Actually, I was afraid the movie was never going to get around to properly developing its plot. But then once it does with a doozy of a plot twist, the movie gets significantly better as the contentiousness of a possible confrontation turns into suspense in this movie that is concerned greatly with movement and its lack of. Just underneath the surface is a lot of history and tension which Soraya encounters for the first time. At the same time, the movie does not let the Palestinian leadership off the hook, holding it at least partially responsible for the fate of its people.
Salt of This Sea (Milh Hadha al-Bahr) Quotes
There are no approved quotes yet for this movie.