Lisztomania
(1975)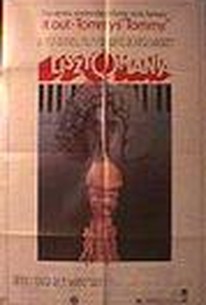 Movie Info
This audacious, vulgar, freewheeling fantasia on the life of pianist Franz Liszt ranks among director Ken Russell's most outrageous efforts. Roger Daltrey, lead singer for The Who, is awkward yet likeable as the flamboyant piano performer with a bevy of fetching mistresses and groupies, while Paul Nicholas is completely outlandish as the scheming opera composer Richard Wagner. There's no nod to reality here: Liszt and Wagner were in fact friends, and Liszt, who became Wagner's father-in-law, actually assisted in the production of Wagner's opulent productions. Russell, on the other hand, presents Wagner as Liszt's jealous rival ready to wreak havoc on the world by unleashing a cryogenic Viking (Yes keyboardist Rick Wakeman) and a horde of machine-gun wielding robot Nazis. In a finale out of Flash Gordon serials, Liszt saves the day after surviving a guillotine designed for phallic dismemberment. The film is fast and loud and wildly undisciplined, much like one of Liszt's Hungarian Rhapsodies. Look fast and you'll see Ringo Starr as the pope. ~ Les Stone, Rovi
Rating:
R
Genre:
, ,
Directed By:
Written By:
In Theaters:
Runtime:
Critic Reviews for Lisztomania
Audience Reviews for Lisztomania
½
I am unable to defend Ken Russell's big budget excursion into celluloid insanity, but I can state that you will be hard-pressed to find a major studio financed film the comes even close to being as strange as this one. The concept is not a bad one -- in many ways one could make a case that Franz Liszt was the first "pop star" inciting the beginning of "fans" and "celebrity" -- however, Ken Russell stretches the concept way too far. The music of Liszt and Wagoner are given glam-electronic interpretation by Rick Wakeman and Russell turns the life of Franz Liszt into a surreal comic book version of history. Intentionally offensive and obviously drug-induced, this film holds a certain charm. I take some form of comfort in knowing that this film was somehow made. For Ken Russell and fans of Cinematic Oddity only.
Matty Stanfield
Franz Listz, a huge 19th century celebrity because of his hit version of "Chopsticks," beds a succession of mistresses until the Pope orders him to travel to Germany and exorcise a demon from rival composer Richard Wagner. It's the biography of Franz Liszt if it were directed by Benny Hill working from a script by Federico Fellini; its silly and phallic, and lots of fun if you can surrender yourself to it.
½
Franz Liszt(Roger Daltrey) performs at a sold out show, almost entirely composed of screaming teenaged girls. The only exception is Richard Wagner(Paul Nicholas), a promising young composer, whose work Liszt makes fun of before Wagner slinks off into the darkness. Fame is not all fun and games as Liszt is commanded to perform for Tsar Nicholas, taking him away again from his paramour Marie(Fiona Lewis) who gave up everything to be with him. At least, his daughter Cosima(Veronica Quilligan) makes him a doll which should comfort him until he makes a detour to visit Princess Carolyn(Sara Kestelman). With baroque, anachronistic and stylistic energy and imagery that includes an additional debt to classic and silent films, Ken Russell is less interested in the facts of Franz Liszt's life, assuming the audience is already familiar with his story and music(all I know is from the film "Impromptu" which featured Julian Sands as the Hungarian composer), than with creating a personal and psycho-political film that tries with a good deal of success to show what the inside of an artist's head looks like. Of course, not everything we see in there is pretty, as Liszt lives constantly in fear of being castrated and/or trapped. That's nothing compared to Richard Wagner who Russell sees as the root of all evil, i.e. Nazism. While I admire the effort to show the Nazis not occuring in a political vacuum, their causes probably went beyond just one classical composer.
Lisztomania Quotes
There are no approved quotes yet for this movie.
Discussion Forum
Discuss Lisztomania on our Movie forum!