Little Jerusalem
(2006)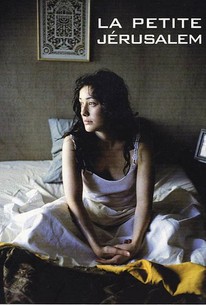 Movie Info
An orthodox Jewish teen living with her family in France attempts to balance her religious upbringing with her increasingly complex view of the outside world in director Karin Albou's incisive meditation on religion, philosophy, and the weight of romance on the mind of a growing girl. Eighteen-year-old student Laura (Fanny Valette) lives with her widowed mother (Sonia Tahar), her sister (Elsa Zylberstein), and her brother-in-law (Bruno Todeschini) in the suburban Paris neighborhood of Sarcelles. Though her exposure to the world thus far has been culturally limited due to the fact that her family resides in a neighborhood is often referred to as "Little Jerusalem" due to its large Jewish population, Laura's studies have told her that the world is full of interesting and diverse people. An overly serious and self-disciplined girl whose outward maturity defies her youthful age, Laura vows to avoid romance before finding that fate doesn't always play by the rules.
Critic Reviews for Little Jerusalem
Audience Reviews for Little Jerusalem
A quiet, thoughtful examination of sexuality and freedom within a Jewish enclave in Paris. Two sisters, who live together and work at the same day care facility, explore what it means to be modest according to their religious traditions, and still express their sexual natures. The elder, Mathilde (Elsa Zylberstein), comes at her dilemma from within the bonds of marriage, to a man who has been unfaithful, and the younger, Laura, as a teenager just beginning to struggle with her urges. Beautifully filmed, with a great deal of tenderness, this proved a most satisfying film. The actors were chosen for their physical and emotional qualities, not because of their religious affiliation, and much of the success can be attributed to that. The girls' mother is played by Sonia Tahar, a non-actor, who was a Jewish mother who answered an open casting call, and was quite a force of nature. At times, this viewer found her character to be incredibly superstitious and overbearing, but the story needed a strong matriarchal anchor, and she amply provided that.
Mark Abell
Super Reviewer
Little Jerusalem Quotes
There are no approved quotes yet for this movie.