Living Out Loud
(1998)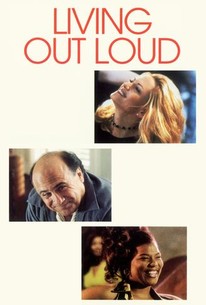 Movie Info
Noted screenwriter Richard LaGravenese made his directorial debut with this dramatic comedy about two unlikely people who find each other while looking for love. Judith Nelson (Holly Hunter) is suddenly single after discovering her husband of fifteen years, a successful doctor (Martin Donovan), has been having an affair with a younger woman. Judith stews, plans, plots and fantasizes, but she can't decide what to do with her life until she goes out to a night club to see singer Liz Bailey (Queen Latifah), who is full of advice on life and love. While out on the town, Judith is suddenly kissed by a total stranger, which opens her eyes to new possibilities ... which is when she notices Pat (Danny De Vito), the elevator operator in her building. Pat's life is in even worse shape than Judith's; his wife has thrown him out for gambling, he's in debt to loan sharks, he's sleeping on the couch of his more successful brother, and his daughter is dying. At first Pat borrows money from Judith, but when the two start talking, they realize they have more in common than they imagined. LaGravenese based his screenplay on a pair of short stories by Anton Chekhov.
Rating:
R (adult situations/language, sex)
Genre:
,
Directed By:
Written By:
In Theaters:
On DVD:
Runtime:
Studio:
New Line Home Entertainment
Critic Reviews for Living Out Loud
Audience Reviews for Living Out Loud
Great movie, great acting, great music, deeply moving, relatable... Holly Hunter superbly understated and brilliant-check out the disco scene. The low ratings here and elsewhere which this movie got are baffling to everyone I know that has seen it. So, if you care about what this site thinks, more than what people like you may thing, skip it, but I don't suggest that you do so.
David L
½
(from The Watermark, 11/12/98) A misguided romantic comedy that isn't as satisfying as it wants to be. The directorial debut of respected screenwriter Richard LaGravanese (The Fisher King, The Bridges of Madison County, The Horse Whisperer) is disappointingly off-kilter in both its writing and direction. Hunter plays a rich New York City housewife who, after being dumped for a younger woman, realizes that she has given up a great deal of herself for her marriage. With an overactive imagination, she desperately tries to live up to her own fantasies of being secure, stable, and emotionally self-sufficient. With the support of Devito, her unwillingly platonic friend, she eventually does make a small shift toward her own happiness. LaGravanese's strong points are his wonderfully interesting characters and his smart, witty dialogue. His weak point is finding a storyline for his characters, and communicating his theme that change happens in baby steps, no matter how hard a person may try. Often, we see a scene as Hunter envisions it happening, and then it is repeated, the way it really happened. This sleight-of-hand storytelling is clever, but not used to its full potential. Another problem with the film is Hunter's character. She goes to uncomfortable lengths to be different (i.e. drinking and smoking too much, falling in love with complete strangers, taking drugs, and bumping and grinding at a lesbian disco). Then LaGravanese, who often omits what seem to be key scenes, neglects to show us any catharsis or reflection Hunter may have on her escapades. The plot is only meandering, and the conflict is pedestrian; it feels more like a pilot for a TV series. QUEER QUOTIENT: The one thing that makes the whole experience worthwhile is Queen Latifah. Not only is she a kick-ass blues singer (why did she ever waste her talents on rap?), she is just the sass and attitude that the film so desperately needs. And she is cinched and duct-taped into her skin-tight dresses more than any drag queen I have ever seen in my life. No doubt she is one of the to-be-worshipped grand divas of the future. And let us not forget the extremely erotic scene in which Hunter receives a massage from a drop-dead gorgeous masseur / call boy in his skivvies. Now I know why the movie theater floor was so sticky.
David Almeida
Leigh Ryan
Super Reviewer
Living Out Loud Quotes
| | |
| --- | --- |
| Judith: | When you lay in the gutter, you can see underneath people better than usual. |
| | |
| --- | --- |
| Judith: | What's so important about living longer and feeling safe? |
| | |
| --- | --- |
| Judith: | I can't stand those terrorists. They're so mad at everybody. I wish they'd just get over it! Maybe I should adopt a crack baby--send it to a good school. |
Discussion Forum
Discuss Living Out Loud on our Movie forum!