Lone Wolf and Cub - Baby Cart at the River Styx (Kozure Ôkami: Sanzu no kawa no ubaguruma) (Shogun Assassin)
(1972)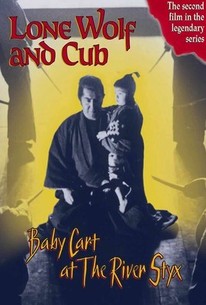 Movie Info
The second installment in the Lone Wolf and Cub saga finds Ogami hired to kill a defecting worker about to reveal the secrets of a prosperous clan's dyeing process to Ogami's nemesis Lord Retsudo Yagyu. Little does Ogami know that Lord Yagyu has sent a gang of female ninjas to kill him, and that he will have to fight a vicious trio of brothers sent to escort the informer. The bond between father and son is intensified as Daigoro assists Ogami in his quest, and nurses him when he is critically injured. Boasting more action than the initial installment, Baby Cart at River Styx is also beautifully photographed, with style to spare and great period atmosphere; this episode is considered by some to be one of the best of the series. ~ Jason Buchanan, Rovi
Critic Reviews for Lone Wolf and Cub - Baby Cart at the River Styx (Kozure Ôkami: Sanzu no kawa no ubaguruma) (Shogun Assassin)
Audience Reviews for Lone Wolf and Cub - Baby Cart at the River Styx (Kozure Ôkami: Sanzu no kawa no ubaguruma) (Shogun Assassin)
The second film in the 'Lone Wolf and Cub' series is better then the first. As Ogami Itto continues his journey he is forced to battle a group of female ninja and assasinate a traitor out to sell secrets. 'Baby Cart at the River Styx' is far more defined then the first film, now the concept is firmly in place the film has freedom to operate much more freely and flesh out its interesting lead character as well as a cast of interesting side characters and Daigoro (Ogami's son). 'Baby Cart at the River Styx' also feels far more well rounded then the first in the series and has a better ending (which was my main complaint with the first). Much like the first in the series this installment takes violence and uses it in an extreme yet poetic style alongside artistic imagery and often dead silience. As well as Ogami's journey the second film also features an interesting side plot about the leader of the female ninja coming to terms with her own abilities, the will to survive and honor. The series feels as if it is leading up to something great so I hope it lives up to the expectations set in place by this film.
Cameron Sherwell
Super Reviewer
the saga of freelance assassin ogami itto and his young son daigoro continues in bloody style. in this episode, daigoro is kidnapped by ninjas and thrown from a burning ship! there's a clan of badass females, a guy with a freddy kruger hand and the final showdown in the sand is particularly thrilling. just as much fun as the first, with some touching scenes between father and son as well. i guess it's the woman in me that makes me wanna yell: hey, watch that kid! lol
Stella Dallas
Super Reviewer
The extreme violence is just as pronounced as in the first film in the series and although most of the choreography and visuals don't quite match the original, it does portray the poetry of death and violence a little more. Blood and guts fly across the screen and roads are littered with bodies, as well as body parts. The relationship between father and son is a strange but strong one.
El Hombre Invisible
Super Reviewer
Lone Wolf and Cub - Baby Cart at the River Styx (Kozure Ôkami: Sanzu no kawa no ubaguruma) (Shogun Assassin) Quotes
There are no approved quotes yet for this movie.