Lost
(2005)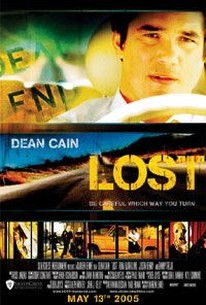 Movie Info
A man in the middle of nowhere finds his past catching up with him in this independent thriller. Jeremy Stanton (Dean Cain) is a businessman who is driving from Santa Barbara, CA, to his new home in a small town in Nevada. However, as Stanton makes his way through the desert, he loses his bearings, and before long, thanks to a few road closings, detours, out-of-date map listings, and faulty directions from an auto-club operator, he hasn't the foggiest notion of where he is. But when an angry man with a gun begins pursuing Stanton, it becomes evident that there's more to his story than just a few wrong turns. Also featuring Danny Trejo and Ashley Scott, Lost marked the directorial debut of screenwriter Darren Lemke.
Audience Reviews for Lost
½
Dean Cain is lost while driving through the Mojave. He done something bad, and has a flight to catch by 9pm to put it all behind him. Correct my grammar and I'll come after you, sapo.
Alex Carawan
Overall not a bad movie. The premise was great, but the story itself was a little weak. Relied a lot on character obliviousness, way too convenient timing and coincidence (heavy handed direction too - instead of assuming the audience was smart enough to get there ourselves, we're shoved face first into some obvious points). Dean Cain does a good job and manages to stay a sympathetic character (which is tough, I'm not a big fan of the anti-hero or bad guy as protagonist). Pretty light role for Danny Trejo, but he's great with what he's given, as always. If you count the location as a character, that did the most to further the plot. Visually very much conveys a sense of desolation and being "lost".
John Wagner
I contemplated forever on how to give this a semi-good review. I can't The director is writing the next Shrek film, though. And I like Danny Trejo, otherwise known as Machete (from the Grindhouse movie's faux trailer, Machete)
William Stephens
Lost Quotes
There are no approved quotes yet for this movie.
Discussion Forum
Discuss Lost on our Movie forum!