Amarelo Manga (Mango Yellow)
(2003)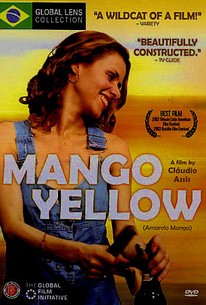 Amarelo Manga (Mango Yellow) Photos
Movie Info
The destinies of the downtrodden citizens of a Brazilian shantytown converge in director Claudio Assis' stark tale of life on the fringe of society. Though Recife is a major Brazilian city with over 1.5 million inhabitants, the lives of the well-to-do exist as little more than an unreachable horizon to those who face the bleak day-to-day reality of existence on the street. Though butcher Wellington (Chico Diaz) admires his wife Kika's (Dira Paes) devotion to her religion, his motivation for supporting her spirituality lies more in the fact that he knows she will remain faithful (which he has not) than in any true concern for her soul. Delivering meat to a Texas hotel which serves as refuge to a collection of lost souls not unlike the butcher himself, the characters come together as Wellington offers his neighbors a series of portraits. As life stretches into a never-ending cycle of wasted days and lonely nights, the citizens of Recife do their best to search for meaning in the face of crushing poverty.
Rating:
NR
Genre:
,
Directed By:
Written By:
In Theaters:
On DVD:
Runtime:
Studio:
República Pureza Filmes
Critic Reviews for Amarelo Manga (Mango Yellow)
Audience Reviews for Amarelo Manga (Mango Yellow)
½
Mango Yellow Amarelo Manga (2003) Recife Brazil WOW somewhat OK movie. some shocking scenes. This film expands the director (Assis) first short movie Texas Hotel; Short stories revolving around a bar and a hotel in Recife, unveil a mosaic of exotic characters living in the Brazilian underground: a butcher married with an evangelical woman, a necrophilia in love with a bar owner, a very gay/queen hotel cook and many others. the story is bizarre by most standards but I enjoyed it. there is some plain old exploitative stuff here also the blood and gutting of cows for meat and necrophilia. Most interesting is how different life can be in Brazil. Its really a black comedy. 20/20 filmsite states: The colour of Brazilian mangoes is a deliciously smooth yellow, the fragrance of the juicy fruit emanating from the peel; it's a beautiful colour, used in the Brazilian flag, used to represent life, the mineral wealth of the land and the colour of the sun. "Mango Yellow (though, yellow is the colour of mangoes, but also of decaying corpses, infected, rotten teeth, disease and malaise. It's a colour that represents the fetid stench of decay and turmoil that exists in the favelas of Recife, a beautiful coastal city on the easternmost point of Brazil." Be careful you might be offended by what you see in this movie. Not a five star movie but I give it a full three stars. maybe 3 1/2.
ld pierce
An interesting slice of life film depicting life in a slum in Brasil. The story covers the events of a single day. Life and death, and the desires common to all men play a part in this tight little film. One comes away with a sense that in the face of such abject poverty, the characters in this film seek love, companionship, and comfort, just as we all do. After the basic needs of life, (food, shelter, and safety) are met, then these other needs can be addressed, even when the availability of the means to achieve them are severely limited. Despair and a joie de vivre walk side by side in the barrio.
Mark Abell
Super Reviewer
½
Bleak look into the lives of several Brazilian from Recife. If Philip Seymore Hoffman was Brazilian, he would appear in this film... that's how screwed up these people are and that's the type of film this is.
Jake Conrad
Amarelo Manga (Mango Yellow) Quotes
There are no approved quotes yet for this movie.