Marwencol
(2010)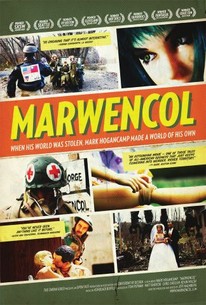 TOMATOMETER
AUDIENCE SCORE
Critic Consensus: Inspiring and fascinating, Marwencol depicts its subject with heartfelt tenderness, raising poignant questions about art and personal tragedy along the way.
Movie Info
On April 8, 2000, Mark Hogancamp was brutally attacked by five men in his hometown of Kingston, New York. The assault left the ex-navyman, carpenter, and showroom designer in a coma for nine days; he emerged with brain damage that initially made it impossible for him to walk, eat, or speak. Physical and occupational therapy helped him regain basic motor skills, but after less than a year he discovered that without insurance, he could no longer afford it. Determined "not to let those five guys win," Hogancamp turned to art as a therapeutic tool. He revisited his childhood hobbies of collecting toy soldiers and building and painting models. Commandeering a pile of scrap wood left behind by a contractor, he constructed "Marwencol," a fictional Belgian town built to one-sixth scale in his backyard. He populated it with military figurines and Barbie dolls representing World War II personages like Patton and Hitler as well as stand-ins for himself, his friends, and his family. Finally, he dusted off an old camera and used it to capture staged events ranging from pitched battles between occupying German and American forces to catfights in the town bar.-- (C) Cinema Guild
Critic Reviews for Marwencol
Audience Reviews for Marwencol
½
"Marwencol" is an intriguing documentary about an intriguing individual, Mark Hogancamp. On a general level, it is concerned with identity, as after having been savagely beaten outside of a bar in Kingston, NY, that leaves him in a coma for nine days and requiring facial reconstruction surgery, he suffers from brain damage that causes a loss of memory which returns in brief flashes.(The most unsettling and scariest parts of the film are of him walking along narrow country roads.) In time, he learns he used to be self-destructive in his heavy drinking which he puts a stop to and is definitely surprised at the amount of women's shoes he owns. Mark does not last long in formal therapy. And no longer able to draw like he used to, he constructs a lovingly detailed reconstruction of a Belgian village from World War II, 'Marwencol,' populated by action figures and Barbie dolls, in which he casts himself as the main hero, simultaneously a man of action and a bartender who no longer drinks like, as he says, Sam Malone.(Which I never saw the logic of, but whatever.) And, yes, of course, there is a time machine. This allows him to work out his frustrations and fantasies safely(especially involving cat fights) and his friends and co-workers feel it an honor to also be represented. So, in the end, you have acceptance.
"When his world was stolen, Mark Hogancamp made a world of his own." After a vicious attacks leaves him brain-damaged and broke, Mark Hogancamp seeks recovery in "Marwencol", a 1/6th scale World War II-era town he creates in his backyard.
REVIEW
As with all the very best documentaries, it's what is implied rather than what is said outright. This brilliantly restrained piece chooses to give subtle information at all the right times, perfectly conveying the emotion attached to its subject matter. Previous alcoholic, bitter and angry, Mark Hogancamp was left in a coma after he received a savage beating outside a bar by five men. The resulting damage meant that he had also lost a lot of memory from the attack, losing details in his life (including his need for alcohol). Having lost his identity, Mark dealt with his traumas by constructing the titular miniature town of Marwencol, often reenacting scenes from flashes of memory, with toy dolls closely representing people in his life. Brilliantly paced, we learn of Mark's life, anxieties, and fears, and learn of a lonely, highly intelligent individual, who just does not want any further pain in his life. Thus, retracting from life and society, to live through his doll-town stories. If the first half is a little labouring in providing information to the viewer, the second half justifies this approach no end, as we compassionately learn of Mark's personality, what makes him comfortable, and the few real loves throughout his life. As well as the reason for the attack that so affected his life. The film is never judgmental, never dwells on its issues more than others. Scenes of Mark walking a toy jeep 160 miles on his trips to the local stores in order to wear the wheels in and appear authentic, prove to be highly endearing rather than seem odd or snigger-inducing. When Mark's constructions are later discovered as works of art, he struggles with his preparation for a New York exhibition of his constructions and photography. Yet clearly his honesty and integrity have a strong effect on the people he encounters there. What we are left with in the end is an honest portrait of a man overcoming his life's traumas. Therapy through art, in the most dignified and humble of ways.
Lorenzo von Matterhorn
Super Reviewer
More than a simple documentary about an artform, Marwencol digs deep into the psyche and troubled past of the creator, Mark Hogencamp. Beaten by five men and left brain damaged, Mark had to relearn everything about his own life all over again. Because he has little money, Mark's various physical and psychological therapies are cut off after a short amount of time. In his desperation to learn about himself, he begins developing a town called Marwencol, inhabited by Barbies, GI Joes, and various other dolls. Each doll is the "alter-ego" of someone in Mark's life, including his mother, ex-wife, and co-workers. Over time the town mirrors events in his own life, or least the way he wants his life to be. In his town he's found true love, fights Nazis, and runs a bar/cat fighting club. Through the process of putting this together, Mark is forced to face his years of alcoholism, and fetish for women's shoes, which had led to his original attack. Moving, and full of empathetic scenes, Marwencol is as close to heartbreaking as humanly possible.
Spencer S.
Super Reviewer
Marwencol Quotes
There are no approved quotes yet for this movie.