Men in Black III
(2012)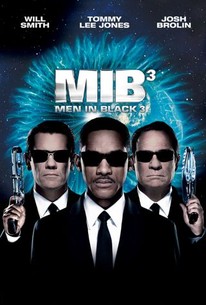 TOMATOMETER
AUDIENCE SCORE
Critic Consensus: It isn't exactly a persuasive argument for the continuation of the franchise, but Men in Black III is better than its predecessor and manages to exceed expectations.
Movie Info
In Men in Black 3, Agents J (Will Smith) and K (Tommy Lee Jones) are back...in time. J has seen some inexplicable things in his 15 years with the Men in Black, but nothing, not even aliens, perplexes him as much as his wry, reticent partner. But when K's life and the fate of the planet are put at stake, Agent J will have to travel back in time to put things right. J discovers that there are secrets to the universe that K never told him -- secrets that will reveal themselves as he teams up with the young Agent K (Josh Brolin) to save his partner, the agency, and the future of humankind. -- (C) Sony
News & Interviews for Men in Black III
Critic Reviews for Men in Black III
Audience Reviews for Men in Black III
An enjoyable but forgettable sequel that doesn't bring anything new to the series. This time we don't have so much of that onscreen chemistry between Smith and Jones (who is absent during most of the film), but Brolin steals the show as a younger version of Jones.
Carlos Magalhães
Super Reviewer
The unlikely buddy cop team up of urban, hip, black guy with redneck, common sense, good ol' boy (does this conceit still carry currency? you betcha ... so much for the 21st century ushering in dynamic social change) returns to seduce you to pony over more popcorn money as the time travel card is laid out to spice up the old aliens among us formula. Luckily the stars bring the charm to keep sleep away while the hoary old chestnut is pranced about. And guess how it ends? They really like each other after all. More popcorn please.
Kevin M. Williams
Super Reviewer
½
I have to admit that I was never much of a fan of this franchise, feeling that it relied too much on special effects and a one trick pony gimmick. However, this 3rd installment tickled my funny bone, and while not perfect (some rather awkward moments to be sure), this one delivered the goods in a sort of offbeat, Twin Peaks sorta way (homage to the pie). I thought that the time travel aspect of the film was serviceable and capably handled, and the entire enterprise has a certain gleam in its eye, managing to straddle the fence between farce and realism. The two stars work well together and Josh Brolin is just fine as the younger Tommy Lee Jones. I'm not going to reveal much of the plot, other than to say that an arch villain has escaped from maximum security (a very nice beginning sequence) and gets access to a time machine, where he intends to go back to 1969 and warn his younger self that Jones is after him. As the two MIB hunt down clues to the villain's whereabouts in both present and past, we are led into several set pieces that range from mildly funny to hilarious - like a confrontation and shootout in a Chinese Restaurant. There's also a funny touch when a femme fatale brings a cake to the prison - said cake is wobbling, while her abundant cleavage is not - gotta love it! Back in time they meet up with Andy Warhol - a scene that could use some salt, but paves the way to a meeting with a creature who can see a myriad of alternate realities. This leads to some truly funny and yet heartfelt moments, as this character holds the soul of the film and allows Jones and Will Smith the opportunity to do some male bonding that otherwise wouldn't play true to the characters. At film's end when Jones states in his usual flat tone "it was an honor", the words carry so much more than a film of this type has a right to expect - and yet it rings true and poignant; to be followed by a bit of hip levity that you'd expect from the brand, and yet was so sorely lacking in the 2nd installment.
paul sandberg
Super Reviewer
Men in Black III Quotes
| | |
| --- | --- |
| Agent J: | Just because you see a black man driving in a nice car, does not mean it's stolen! Ok, I stole that one, but not cause I'm black! |
| | |
| --- | --- |
| Boris the Animal: | Let's agree to disagree. |
| | |
| --- | --- |
| Agent K: | Boris the Animal! |
| Boris the Animal: | It's just Boris! |
| | |
| --- | --- |
| Agent J: | You must be from the planet "Damn". |