Metropolitan
(1990)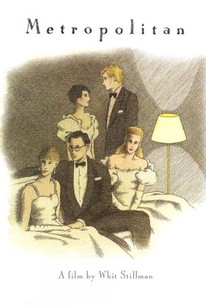 Movie Info
An ironically comic look at Manhattan's endangered debutante scene, Metropolitan chronicles the rise and ultimate decline of a group of young Park Avenue socialites who gather nightly to discuss love, honor, and the impending demise of their class.
People Who Like this movie also like
News & Interviews for Metropolitan
Critic Reviews for Metropolitan
Audience Reviews for Metropolitan
A film that somehow bridges the gap between Gen X comedies of the nineties and Jane Austen, "Metropolitan" is the story of a group of friends who are all pretending for everyone's benefit. Set in the late 1980s and possibly being the predecessor to films such as "Reality Bites" and "Empire Records", "Metropolitan" has characters that are happy to philosophize and mediate on debates of culture and art, but can't understand the dynamics of their ever shrinking group, or the implications of their actions in the context of love. The group contains many college freshmen, most considered debutantes, living in New York during winter break. Newcomer Tom (Clements) is more middle class than the rest of them, but sidles in thanks to the affections of a longtime admirer, Audrey (Farina). Within the group are several trend-following nymphets, a dodgy intellectual, a sweet tempered literature lover, and a narcissist and hypocrite who seems to guide them all at first, until they turn on him and his lies. That character is Nick (Eigeman) who comes off as a sort of nihilist towards his upper class friends, commenting on their sophisticated indulgence as an outsider, and insulting their bourgeoisie lifestyles while living it himself and calling for at least self-awareness. This indie film had many little performances that made a big impact. Much of this is resting on superb dialogue, between characters that are unpredictable while still being familiar. This film was nominated for Best Original Script at the Academy Awards that year and I can understand that from the dialogue heavy content .The group's world is something I've never seen on film because it's constructed from their own fallacies and hang ups. We as the audience cannot understand their motives because we're not voyeurs into the elite, but into a group of martyrs. Besides some awkward performances, which kept me from absolutely loving this film, it was well written, directed, and shot. Interesting and flamboyant in every sense of the word, you will want to see this look into a world within a world.
Spencer S.
Super Reviewer
Whit Stillman's blazingly original, triumphantly witty "Metropolitan" is a signal independent film of the 1990s. The dialogue is like music and the performances from the unknown actors are pointed and scathing. This is the kind of film that Woody Allen would be able to make if he let an idea gestate rather than churning out a film a year. "Metropolitan" is an insanely precise social observation and satire.
Steven Carrier
Super Reviewer
½
Metropolitan is a witty, cerebral yet stylish comedy about a group of upper class teenagers in New York City as they go through the debutante season. The entire narration does not surpass two weeks in the film's time, and yet so much conversation and play goes on in their nightly balls that by the end of it the insight we can have about the characters is unusually complex, as is our possible empathy towards them.
In essence, Metropolitan concerns just about what every other film about teenagers will usually revolve around: romantic relationships, friendships, gossip, getting drunk, discussing about society in general and about individual prospects. Only that these characters belong to a very privileged elite and are only now beginning to come to terms with what that means: what will they do? what is really their place? can there be any further upwards mobility or is it downhill from where they are? They talk about prejudice, snobbery, religion, moral propriety, as if they knew there's some place they have to occupy that they want to be prepared for. And then there are some who don't care about any of that and just dance and drink and play strip poker.
Audrey, Nick, Charlie, Cynthia, Fred, Jane and Sally attend every debutante ball together. Their alliance is almost strategic: they have thus ensured that each girl will have an escort through the entire season. However, they're still short of one male member and they recruit Tom one night when they get on a cab that he was about to take. Tom says it's OK, Nick insists that they share, then they invite Tom to their party, he says yes. Suddenly, Tom is caught up in their charming social life, going out with them almost every night although he's a disinherited, West-sider, self-proclaimed outsider who goes to the same schools as them but definitely was not planning on participating in debutante season.
Although the premise of seeing a group of people through the eyes of someone who does not belong to it is not new, it works well enough. In fact, the story makes an interesting progression in which Tom almost stops being an outsider and becomes, say, a subversive element within the group for reasons much different from what we are led to believe at first.
Whit Stillman creates with great attention to detail the universe of his upper-class characters. It's almost seductive to watch. The film's cinematography, set design and costumes are evocative of both a bygone time (the 90s, with their peculiar aesthetic) and a decidedly sophisticated (and to me, unfamiliar) variety of places, lobbies, ballrooms, upscale apartments and probably overpriced restaurants.
Seductive is a good word for this film. Stillman refrains from stuffing his characters in common places and shapes their personalities in individual and unexpected ways that make them not only amusing, but genuinely interesting. In some ways, it's possible to want to be there with them. Most importantly, their dialogue is the most attractive feature of the film: equally intellectual and superficial, at times devastatingly serious and then followed by a few cliches or "whatevers", consistently funny although at times sad. The actors deliver it with as much credibility as possible -many of them unfamiliar, fresh faces that could belong perfectly in that context.
In spite of the love he obviously feels for his group of socialites and their hazy, troubled family or romantic stories, Stillman does critique the excesses of a youth that talks about life and does nothing about it, and that criticism is contained, surprisingly, in the words of the characters themselves. Avoiding the easy alternative of pointing out the flaws of an entire social group (which is, in its generalization, irresponsible), he prefers to let them be and show us, in their own environment, why they behave and think the way the do. We are allowed to judge by ourselves, all the while being reminded that nobody chooses to be born in whichever circumstances, and that we all eventually need to come to terms with them, whether they involve Christmas at the Plaza or not being able to afford a taxi to the other side of town.
Metropolitan Quotes
| | |
| --- | --- |
| Tom Townsend: | I don't read novels. I prefer good literary criticism. That way, you get both the novelist's ideas as well as the critic's thinking. |
| Tom Townsend: | I don't read novels. I prefer good literary criticism. That way, you get both the novelist's ideas as well as the critic's thinking. |
| | |
| --- | --- |
| Nick Smith: | The last way to be happy is to make it your objective in life. |