The Milk of Sorrow (La Teta Asustada)
(2010)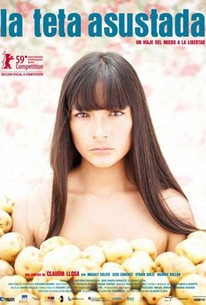 TOMATOMETER
AUDIENCE SCORE
Critic Consensus: Claudia Llosa's deliberate pace and abstract storytelling may frustrate some viewers, but there's no denying the visual pleasures soaking in The Milk of Sorrow.
The Milk of Sorrow (La Teta Asustada) Photos
Movie Info
Director Claudia Llosa follows her award-winning feature directorial debut, Madeinusa, with this stark meditation on a grim period of South American history in which approximately 70,000 people were murdered between the years 1980 and 2000. Fausta (Magaly Solier) has fallen ill with a disease passed down from mother to daughter through breast milk. But Fausta's affliction isn't biological; it strictly affects Peruvian women who were raped or abused during those two terrible decades of persecution. While those days are long gone, Fausta stands as a living reminder of the horrors that once plagued her country, her malady a deep-rooted fear that stripped the young innocent of her soul. After Fausta's mother dies, the horrified girl is forced to confront her greatest fear by staring straight into the black heart of her own paranoia. Now, as Fausta sets out to discover her own path to freedom, she inserts a potato into her vagina in order to protect her body from unwanted intruders. ~ Jason Buchanan, Rovi
News & Interviews for The Milk of Sorrow (La Teta Asustada)
Critic Reviews for The Milk of Sorrow (La Teta Asustada)
Audience Reviews for The Milk of Sorrow (La Teta Asustada)
½
A poignant allegorical drama centered on the belief that the trauma experienced by the many women raped during the years of terrorism in Peru has been passed on to the following generations, and it relies on a beautiful performance by Magaly Solier.
Carlos Magalhães
Super Reviewer
A Peruvian girl believes that her raped mother's sorrow was transferred to her through breast milk. That intriguing premise is somewhat wasted in a slow and drawn out tale of the girl trying to raise money to bury her mother's corpse in her native village; it's most interesting for its peek at Peruvian folk beliefs and customs, including an unusual use for potatoes.
½
While participating in the rehearsal for her cousin Maxima's(Maria del Pilar Guerrero) wedding, Fausta(Magaly Solier) falls so ill that it cannot be explained by her usual nosebleeds. At the hospital, she is diagnosed with a potato in her vagina and does not want to be treated. As she tells her uncle Locido(Marino Ballon), she heard a story about a woman who did the same during the terror and was not raped. Fausta probably heard the story from her mother(Lucy Noriega), now deceased, who she has to find the funds to bury in her native village. To do so, Fausta gets a job at the Big House but does not get an advance on her wages. What easily could have been on the level of a very silly episode of "House," instead turns out to be an understated allegory of Peru that is admittedly more than a little predictable. On the one hand, everybody seems to be getting married, leading to a worldwide fabric shortage and most people with little spending money. Or they are people like Fausta who carry the psychic baggage of past generations around with them. She is haunted from songs her mother used to sing, not transmitted through breast milk, which just goes to show you that there is some truth in myths.
The Milk of Sorrow (La Teta Asustada) Quotes
There are no approved quotes yet for this movie.