The Miracle Woman
(1931)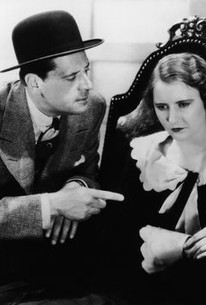 Movie Info
Convinced by her unscrupulous promoters that she's got the true power to heal, an impassioned female evangelist rises to the top then falls in love with a blind aviator, causing her handlers to meddle with her personal life. One of Frank Capra's most outstanding early talkies with memorable, dynamic Barbara Stanwyck.
Critic Reviews for The Miracle Woman
Audience Reviews for The Miracle Woman
Barbara Stanwck really lets loose with her frustration and anger in this film's opening scene, as only she could. As she rails at the congregation from a pulpit, a reverend stands in the crowd and implores her to remember she's in the house of God. "What God? Who's God? Yours? This isn't a house of God! It's a meeting-place for hyporcrites!" she screams in reply. Now, it is a little hard to believe when she then turns around and becomes a hypocrite herself, under the guidance of a con-man played well by Sam Hardy. The scenes of her evangelizing to the masses and over the radio are a little slow at first, but the film grew on me. What really makes it is Stanwyck falling for a blind man (David Manners) who was helped by one of her sermons. The scenes between the two are charming and romantic, including him doing some ventriloquism so that he can have his dummy express his feelings, and her playfully singing "The Farmer in the Dell" in a funny voice and breaking up laughing. That bit is so naturally it seems like we're seeing Stanwyck in her home, impromptu. She also sends him letters made with cut-out, raised letters so he can read them, which I thought was touching. David Manners is reasonably good at playing blind, and seems to get better as the film goes on, keeping up with Stanwyck. Frank Capra is a great director, and uses interesting camera angles, slow pans to show a character's gaze, and cuts to minor characters making comments about what they (and we) are seeing. He can really put a finger on what touches us, for example, when Manners elaborately prepares himself so that he can pretend he's got his vision back, but Stanwyck eventually sees through him. Capra also builds to dramatic moments towards the end, though he's unfortunately heavy-handed in the expressions of 'true faith'. I'm not a big fan of that, but for me, the film is a love story, and about the miracle of love, more than anything else.
Antonius Block
Super Reviewer
½
a cynical capra film inspired by notorious evangelist aimee semple macpherson. a very young barbara stanwyck is great in one of her best early roles. it's similar in tone and plot to elmer gantry, another great film about religious hucksters based on macpherson, who lost most of her flock after faking her own kidnapping in 1926. you can tell this is precode as someone gets the bird lol
Stella Dallas
Super Reviewer
The Miracle Woman Quotes
There are no approved quotes yet for this movie.