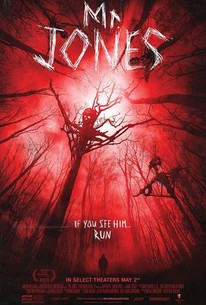 Mr. Jones
2013, Mystery & thriller, 1h 24m
10 Reviews
250+ Ratings
Where to watch
Rent/buy
Rent/buy
Rate And Review
Movie Info
Two filmmakers (Sarah Jones, Jon Foster) discover too late that it was a bad idea to make a documentary about their neighbor (Mark Steger), a reclusive artist.
Rating: PG-13 (Frightening Images|Brief Language|A Scene of Sexuality|Terror)

Genre: Mystery & thriller

Original Language: English

Director: Karl Mueller

Producer: Ross M. Dinerstein

Writer: Karl Mueller

Release Date (Theaters): limited

Release Date (Streaming):

Runtime:

Distributor: Anchor Bay
News & Interviews for Mr. Jones
Audience Reviews for Mr. Jones
I was inspired to watch Mr Jones simply because of my love and fascination for the found-footage genre that has become so popular in the past decade, however this is no REC or Blair Witch Project. Mr Jones is a horror flick that begins with prophesying beauty and an artsy introduction that would probably throw off a mainstream audience from the get go, which is kindly of the director to do really, because Mr Jones doesn't pretend to be normal and I respect that. Unfortunately, it does seem to take itself too seriously to be considered serious at all, in its attempts at being a memorably scary film. It has its moments for sure, there were times watching Mr Jones that I was genuinely shook and in fear, which makes it even sadder when it declines to a scramble from idea to idea. Mr Jones just cant find its footing. Is it a found- footage story of survival? Is it a mind- bending Lynchian dreamscape? Is it a slasher film? Who the hell knows, but what we do know is that the director, cast and everyone else involved really don't seem to know either, this is obvious. The acting is good and the idea behind the story could've been brilliant as it is original and creepy, but its smothered under lashings of a scrambled script and frantic meandering of the plot. At the end, Mr Jones is unfortunately nothing but a pile of twigs and dirt.

I don't expect this to be a long review. Not a half bad idea for a horror film, honestly. A couple moves out to a remote cabin in order for their relationship to regain its spark. While there, they discover a reclusive artist known as Mr. Jones, known for his strange sculptures that have been sent out to various people across the years. So this couple, realizing that they've found this infamous artist, decide to make a documentary on him and the sculptures he created and the supposed supernatural effect the people that have received these sculptures have suffered through. Of course, this being a 'horror' movie, at least it's being framed as such, things start getting strange as the film progresses as the couples finds investigates Mr. Jones and to attempt and uncover the mystery behind the sculptures, they then find themselves in an increasingly dreamlike and nightmarish world that they simply cannot escape. It all sounds perfectly fine, I know, but there's just something about the execution of the film that feels so incredibly self-indulgent. And I suppose every self-indulgence is a part of every artistic endeavor, if you're both writing and directing in this case, but there's something different about this movie. It feels show-off-y, like Karl Mueller is pretty much begging the world to look at him as a director with potential. And I'm not saying that there isn't potential here, because the film started out interestingly enough. But it just became muddled by a contrived and nonsensical third act. Like I can understand what the film is trying to do about Mr. Jones being the protector of the area the cabin is in and trying to keep the dream world and the real world from merging into one, but I just don't think it's that well done or interesting. Again, it just feels like a convoluted and contrived mess. The acting is pretty decent and the framing of the shots is more interesting that your typical found footage horror film. The climax itself, visually, is also pretty cool and surreal actually, but it's not like the film really comes together that well in spite of its interesting concepts. I wouldn't say it's awful, I just don't think it's that good of a movie, despite giving off the appearance that it is. It's just an absolute mess when you get right down to it. I wouldn't recommend it, unless you've watched every horror movie on Netflix. And even then, I wouldn't recommend it.
See Details