Mr. Smith Goes to Washington
(1939)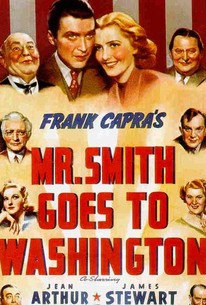 Mr. Smith Goes to Washington Photos
Movie Info
Frank Capra's classic comedy-drama established James Stewart as a lead actor in one of his finest (and most archetypal) roles. The film opens as a succession of reporters shout into telephones announcing the death of Senator Samuel Foley. Senator Joseph Paine (Claude Rains), the state's senior senator, puts in a call to Governor Hubert "Happy" Hopper (Guy Kibbee) reporting the news. Hopper then calls powerful media magnate Jim Taylor (Edward Arnold), who controls the state -- along with the lawmakers. Taylor orders Hopper to appoint an interim senator to fill out Foley's term; Taylor has proposed a pork barrel bill to finance an unneeded dam at Willet Creek, so he warns Hopper he wants a senator who "can't ask any questions or talk out of turn." After having a number of his appointees rejected, at the suggestion of his children Hopper nominates local hero Jefferson Smith (James Stewart), leader of the state's Boy Rangers group. Smith is an innocent, wide-eyed idealist who quotes Jefferson and Lincoln and idolizes Paine, who had known his crusading editor father. In Washington, after a humiliating introduction to the press corps, Smith threatens to resign, but Paine encourages him to stay and work on a bill for a national boy's camp. With the help of his cynical secretary Clarissa Sanders (Jean Arthur), Smith prepares to introduce his boy's camp bill to the Senate. But when he proposes to build the camp on the Willets Creek site, Taylor and Paine force him to drop the measure. Smith discovers Taylor and Paine want the Willets Creek site for graft and he attempts to expose them, but Paine deflects Smith's charges by accusing Smith of stealing money from the boy rangers. Defeated, Smith is ready to depart Washington, but Saunders, whose patriotic zeal has been renewed by Smith, exhorts him to stay and fight. Smith returns to the Senate chamber and, while Taylor musters the media forces in his state to destroy him, Smith engages in a climactic filibuster to speak his piece: "I've got a few things I want to say to this body. I tried to say them once before and I got stopped colder than a mackerel. Well, I'd like to get them said this time, sir. And as a matter of fact, I'm not gonna leave this body until I do get them said." ~ Paul Brenner, Rovi
Critic Reviews for Mr. Smith Goes to Washington
Audience Reviews for Mr. Smith Goes to Washington
½
James Stewart and Jean Arthur are both amazing in this magnificent political drama - a film still relevant when it comes to corruption and our powerless indignation reflected in an idealistic young Senator who boldly demands honor from the ones betraying their vows in Washington.
Carlos Magalhães
Super Reviewer
½
Frank Capra's tale of an idealistic, yonug junior senator's revelation about, (and subsequent revolution against) Washington's rampant corruption is among his finest (and most typical) works. This film is easily one of the cornerstones for stories about the pure hero standing up for truth, justice, and the little guy, no matter how daunting the opposition and odds of success. It's cliched with how heartwarming and feel good, and unsurprising it all is, but nevertheless is a very great film. Jimmy Stewart cemented his status as a legend his, and this is one of his best and archetypical roles. He really brings the feverish determination of his everyman hero to life and delivers a great guy you can't help but root for. Supporting him are notable names like Jean Arthur, Claude Rains, and Edward Arnold, among others, all of whom deliver some strong performances. The writing is sharp, the direction strong, and the cinematography and editing are pretty top notch, especially for the time. And of course, the message is quite timeless and still relevant. All in all, this is one of the greats. It's overly simplistic, sentimental, and idealistic, but we do need films like this, and I will always defend Capra and his work for this reason, even if I don't want to watch this sort of thing all the time.
Chris Weber
Super Reviewer
I could watch this movie a million times and still get chills when he won't yield. The only film I really feel like deserves a standing ovation when the credits roll.
Graham Jones
Super Reviewer
Mr. Smith Goes to Washington Quotes
| | |
| --- | --- |
| Jefferson Smith: | And this country is bigger than the Taylors, or you, or me, or anything else. Great principles don't get lost once they come to light; they're right here! You just have to see them again. |
| | |
| --- | --- |
| Senator Holland: | Will the senator yield for a question? |
| Sen. Joseph Paine: | Mr. President, will the Senator yield? |
| Jefferson Smith: | No, sir, I will not yield! |
| President of the Senate: | Will the Senator yield? |
| Jefferson Smith: | No, sir, I'm afraid not, no sir. |
| | |
| --- | --- |
| Jefferson Smith: | You think I'm licked. You all think I'm licked. Well, I'm not licked. And I'm going to stay right here and fight for this lost cause. Even if this room gets filled with lies like these, and the Taylors and all their armies come marching into this place. |
| | |
| --- | --- |
| Jefferson Smith: | I wouldn't give you two cents for all your fancy rules if, behind them, they didn't have a little bit of plain, ordinary, everyday kindness and a little looking out for the other fella, too. |
Discussion Forum
Discuss Mr. Smith Goes to Washington on our Movie forum!