Mrs. Miniver
(1942)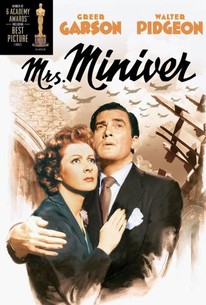 TOMATOMETER
AUDIENCE SCORE
Critic Consensus: An excessively sentimental piece of propaganda, Mrs. Miniver nonetheless succeeds, due largely to Greer Garson's powerful performance.
Movie Info
As Academy Award-winning films go, Mrs. Miniver has not weathered the years all that well. This prettified, idealized view of the upper-class British home front during World War II sometimes seems over-calculated and contrived when seen today. In particular, Greer Garson's Oscar-winning performance in the title role often comes off as artificial, especially when she nobly tends her rose garden while her stalwart husband (Walter Pidgeon) participates in the evacuation at Dunkirk. However, even if the film has lost a good portion of its ability to move and inspire audiences, it is easy to see why it was so popular in 1942-and why Winston Churchill was moved to comment that its propaganda value was worth a dozen battleships. Everyone in the audience-even English audiences, closer to the events depicted in the film than American filmgoers-liked to believe that he or she was capable of behaving with as much grace under pressure as the Miniver family. The film's setpieces-the Minivers huddling in their bomb shelter during a Luftwaffe attack, Mrs. Miniver confronting a downed Nazi paratrooper in her kitchen, an annual flower show being staged despite the exigencies of bombing raids, cleric Henry Wilcoxon's climactic call to arms from the pulpit of his ruined church-are masterfully staged and acted, allowing one to ever so briefly forget that this is, after all, slick propagandizing. In addition to Best Picture and Best Actress, Mrs. Miniver garnered Oscars for best supporting actress (Teresa Wright), best director (William Wyler), best script (Arthur Wimperis, George Froschel, James Hilton, Claudine West), best cinematography (Joseph Ruttenberg) and best producer (Sidney Franklin). Sidebar: Richard Ney, who plays Greer Garson's son, later married the actress-and still later became a successful Wall Street financier. Mrs. Miniver was followed by a 1951 sequel, The Miniver Story, but without the wartime setting the bloom was off the rose. ~ Hal Erickson, Rovi
Critic Reviews for Mrs. Miniver
Audience Reviews for Mrs. Miniver
A middle-class family endures World War II. Essentially propaganda, Mrs. Miniver exalts the bravery of common people in extraordinary circumstances. Of course, "common" in this uniquely British sense involves a life of luxury, and while the class issues of British society are treated tangentially, the most pressing aspect of the film is how the characters rise to their circumstances. Mrs. Miniver's courage when confronted by a marooned German soldier, Mr. Miniver's excursion on a fishing boat, and their son's flying missions are all examples of common bravery. Most of these scenes are subtle and individually compelling, but the film amounts to a simple extolling of the everyday, and as a result it becomes locked in its political message. One scene that bothered me from a feminist perspective involves Mr. Miniver smacking his wife on the bottom after he finds out she is responsible for the marooned German's capture. The patriarchal necessity that the man be the locus of courage was yet another reminder that this film is confined to its era. Overall, while there is some good acting, war propaganda can only go so far.
Jim Hunter
Super Reviewer
½
It really hasn't aged all that well, but this is nonetheless a decently well made and well-intentioned World War II drama. What sets it apart from contemporary films about WWII is that it came out during the war, and was thus focusing on current events, specifically the impact of the war on the homefront, which, in the case of the film, happnes to primarily focuses on the war's effect on the Miniver household, mainly the title character- a nice lady from Britain's upper crust. I liked the choices they made in terms of setting and how it focuses less on the soldiers and more on those who did their part to support the war effort off the battlefield. Being that it is a Hollywood production that apparently got great acclaim from Churchill, the film tends to stick out as being a very idealized and sanitized melodramatic propaganda piece. There are soem really moving scenes though, and, like I said, the film is well intentioned, but as a result of all I've just said, the film is extremely biased and seems rather quaint and safe by today's standards. Aside from this, the film takes a while to really get going, it's rather uneven, and there's a fair amount of screentime where the title character isn't even the focus or present in the events. It's not a waste though. The perforamnces are decent, the subject matter interesting (even if the execution could use some work), and, as I said, there are some really moving sequences that are quite well done, especially the bomb shelter sequence. All in all, a noble film, but nothing really all that great. I can see why it was popular and acclaimed upon its release, but this is one of the many cases where the decision to give it the BEST PICTURE award hasn't stood the test of time. You should still perhaps give it a watch, but if you want a propaganda piece that is something of a masterpiece (and please don't take this recommendation out of context), see Triumph of the Will instead.
Chris Weber
Super Reviewer
½
A pretty good drama about life during WWII, which came out during WWII. Not really exciting, but the actors are good.
Mrs. Miniver Quotes
| | |
| --- | --- |
| Vicar: | This is the people's war! It is our war! We are the fighters! Fight it, then! Fight it with all that is in us, and may God defend the right. |