My Life as a Dog (Mitt Liv som Hund)
(1987)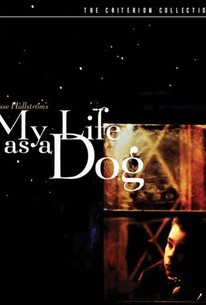 Movie Info
In 1959 Sweden, young Ingemar (Anton Glanzelius) lives with his dying mother and his nasty older brother. He survives all of life's knocks by comparing himself to those who are worse off--such as Laika, the little Russian space dog who was rocketed to his death and had nothing to say in the matter. Ingemar begins to identify with Laika more and more as his mother's health deteriorates, at times dropping to all fours and baying at the moon. When his mother is advised to get some peace and quiet away from her children, Ingemar is sent to live with his loveable uncle and aunt. For the first time, the boy is surrounded by relatives and classmates who pose no threat and who genuinely like him. He even has a sexual awakening. When his mother dies, he no longer rationalizes his misfortunes by comparing himself to those less fortunate; from now on, he can conjure up pleasant memories of his summer away from home to sustain him through the hard times. My Life as a Dog (Mitt Liv Som Hund) is based on the autobiographical novel by Reidar Jonsson.
Critic Reviews for My Life as a Dog (Mitt Liv som Hund)
Audience Reviews for My Life as a Dog (Mitt Liv som Hund)
Cast off by his ailing mother, a boy comes of age. Reminiscent of the masterful 400 Blows, this Swedish coming-of-age drama is remarkably compelling. The conflicts between Ingemar and his brother, Ingemar and his peers, and Ingemar and the fate that leaves him feeling unwanted and unloved walk the fine line between accessible and subtle. These plots work on every level, but what is more is Lasse Hallstrom's direction. Visual metaphors like the cart stuck in the middle of the road and the children covered in shit but innocently laughing at the ride convey the film's bittersweet mood and advance the theme. And what is this theme? That life is filled with unanswerable questions and misfortune, but sometimes we can still enjoy the ride. I thought the exposition lasted longer than it should, and it took the film a long time to get Ingemar into any compelling conflict. Overall, this is a very strong art film and another example of how great Swedish cinema, the home of Bergman, is.
Jim Hunter
Super Reviewer
Childhood is the happiest time of our lives simply because we still ignore what is wrong with the world and the people living in it. This film shows the moment when a kid begins to suffer at being beaten by tragedy (the loss of his mother and his dog) and disorientation (sexuality), but realizes is the time of shaping his own identity and character to endure.
Pierluigi Puccini
Super Reviewer
A touching portrayal of a young boys personal grief, and understanding of loss and change in his life. Through his personal transformation he finds a certain happiness, and many friendships, in his new life. Heartbreaking yet reassuring that there are good people out there in the world.
Cynthia S.
Super Reviewer
My Life as a Dog (Mitt Liv som Hund) Quotes
| | |
| --- | --- |
| Ingemar Johansson: | It's strange how I can't stop thinking about Laika. People shouldn't think so much. "Time heals all wounds," Mrs. Arvidsson says. Mrs. Arvidsson says some wise things. You have to try to forget. |
| Ingemar Johansson: | It's strange how I can't stop thinking about Laika. People shouldn't think so much. 'Time heals all wounds,' Mrs. Arvidsson says. Mrs. Arvidsson says some wise things. You have to try to forget. |