My Life Without Me
(2003)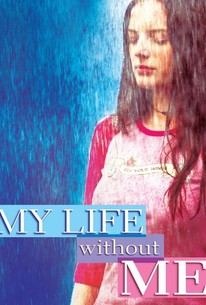 My Life Without Me Photos
Movie Info
Ann is 23-years-old, she has 2 young daughters, a husband who spends more time unemployed than working, a mother who hates the world, a father who has spent the last ten years in jail, and a job as a night janitor in a university that she could never attend in the daytime. They all live in a trailer, on the yard of her mother's house, in the outskirts of Vancouver. However, this gray existence changes completely when, after a medical check-up, a doctor tells Ann that she has very little time left on this earth. Learning that she has hardly two months to live, Ann decides to keep her condition a secret, and refuses to tell anybody--not even her husband--about her time remaining. She does not want people around her with long faces, and obsessed with her approaching death. Ann starts to make a list of things to do before dying, which she completes little by little. The list targets a wide range of things to which she must attend, including carrying out tasks like: saying exactly what she thinks to certain people; as well as getting herself some fake fingernails. Unexpectedly, Ann discovers an appetite for life that drives her to live her last days with a sensual and furious intensity she had not known before. During this short time, she prepares her daughters for a life without her; she meets a solitary wounded man, whom she seduces; and most importantly, Ann faces what remains of her life with a certain steadfast courage she never knew she possessed.
People Who Like this movie also like
Critic Reviews for My Life Without Me
Audience Reviews for My Life Without Me
Well done, without being too grim. Slow moving, yet interesting to watch. Just nicely put together enough to tug on the heartstrings. I thought that the ending was very nicely done. No death scene...just images of what was left behind. Nice....
Cynthia S.
Super Reviewer
½
You know what to expect when we have a terminally ill female lead. Thankfully, this did'nt turn out to be the usual tear-jerking melodrama. Emotions were decently real and was well acted throughout.
½
Despite being a great film for many reasons, My Life Without Me is one of those films that fails to connect. I don't mind a film being very different, but there still has to be an emotional anchor point. Here we find out that our heroine is dying, a fact she decides to keep from her family. This could work, after all it is kind of sweet sparing them from the pain. It worked in Ikiru, but that was a lonely man not looked fondly upon. He decides to make a good change for others, without any form of reward. In this film, Polley makes selfish decisions to quench her curiosity. Therefor, the best thing she can think of to stick on her "to do list" is "to do" another guy. It's actions like this that distance this film. That aside the acting, music and pacing is all fine. But what's the point if it fails to make you care or feel.
Luke Baldock
Super Reviewer
My Life Without Me Quotes
| | |
| --- | --- |
| Lee: | Lee: When you look at someone,really look at them, you might see fifty percent of who they really are. And wanting to know the rest-that's what destroys everything. |
| | |
| --- | --- |
| Ann: | If you don't kiss me I'm gonna scream! |
| Ann: | If you don't kiss me right now I'm gonna scream. [She screams, he kisses her] |