My Little Eye
(2002)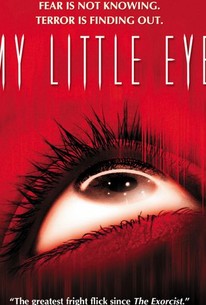 Movie Info
Picking up where the multitudes of late '90s/early 2000s reality-based television shows left off is the unexpectedly shocking horror film My Little Eye, from director Marc Evans. Five twentysomethings are assembled to live together for a period of six months in a house specially outfitted with a bevy of webcams in order to collect a one million prize. The one major caveat being if anyone abandons the house prior to the end of the six-month period, no one will win anything. After introducing the different characters -- intelligent Danny (Stephen O'Reilly), slacker Rex (Kris Lemche), frat boy Matt (Sean CW Johnson), good girl Emma (Laura Regan), and actress wannabe Charlie (Jennifer Sky) -- the story jumps ahead to the last few days before the scheduled end of the contest. At this point, it becomes apparent that outside forces are somehow manipulating certain events within the house, and the household is sent into chaos as one of the participants is found dead. Another participant receives an ominous note, and shortly thereafter, the remaining participants begin to realize the true intensity of their mortal peril. My Little Eye premiered at the 2002 Locarno International Film Festival.
Rating:
R (strong violence and sexuality, pervasive language and some drug use)
Genre:
, ,
Directed By:
Written By:
In Theaters:
On DVD:
Runtime:
Studio:
Universal Studios Home Video
Critic Reviews for My Little Eye
Audience Reviews for My Little Eye
[img]http://images.rottentomatoes.com/images/user/icons/icon14.gif[/img] Marc Evans' My Little Eye offers some very intriguing twists to the documentary style of horror which has been ruthlessly exploited of originality in more recent years. It borrows numerous elements from The Blair Witch Project but crucially it offers imagination, incredibly creepy sets, real smarts and challenging pacing that cranks up the tension. As the plot is slowly progressed further into unsettling weirdness, the characters become more likable and the horror plays out very effectively. Although the typically bland dialogue destroys any chance at character development the strong performances and Evan's hypnotic style of directing holds everything in place and from that it actually ends up going somewhere. I think that there is an underlying subtext to the film expressing hatred for reality TV in how we enjoy watching everyday people experience differing form of mental trauma and humiliation on screen or in this case via the Internet. Although some of the twists tend to be predictable and the script is sometimes weak it made me bite my nails more than Paranormal Activity or any of the recent "found footage" outings and is overall a real classic of the sub genre. The visually yucky quality of the gore and Evans' decision to allow the narrative to really take it's time adds to the thrills of watching it. I love this film, but the ending has understandably split opinions. A character in it's finale describes "the company", which is something often discussed by the group of protaganists, and reveals some expected/unexpected information about what, where, who and why it is. In a way the speech was cheesy, but it was an absolutely spine tingling conclusion to the madness of the story. A little horror film which has been unforgivably forgotten. Scary, funny, under rated and a real creepy eye opener.
Directors Cat
Super Reviewer
Total garbage. The characters are undeveloped. The storyline is predictable. The horror is non existent.
Christopher Alcock
Super Reviewer
½
Entertaining enough I guess. The end was predictable and not very exciting.
Curtis Lilly
Super Reviewer
My Little Eye Quotes
There are no approved quotes yet for this movie.