Mystery, Alaska
(1999)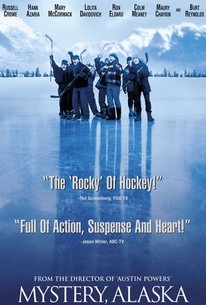 Movie Info
The remote and isolated Mystery, Alaska-a little town on the outskirts of greatness--- may look cold and unexciting from the outside, but inside, behind closed doors, Mystery has all the sex scandals, hidden secrets, prying eyes and political hypocrisies of any urban den of iniquity. And, it has a darn good hockey team. In a town where everybody knows everybody else's business, a human interest story in a national magazine suddenly thrusts the village into the world spotlight. When the town's amateur hockey team accepts the challenge of a face-off against the New York Rangers, the entire population must put petty rivalries behind them and prove there is no mystery, in Hollywood Pictures' drama, "Mystery, Alaska."
People Who Like this movie also like
News & Interviews for Mystery, Alaska
Critic Reviews for Mystery, Alaska
Audience Reviews for Mystery, Alaska
½
Ever since I saw the previews for it a couple of years ago, I knew I had to see "Mystery, Alaska." One thing that surprised me was that my mom even liked it and she HATES watching any kind of sports. Another thing, I haven't ever been that much of a hockey fan myself. In my whole life, I probably haven't watched enough hockey to account for more than two whole NHL games. I'm an NBA and MLB fan instead. However, I liked "Mystery, Alaska" A LOT! An amateur, but very skilled hockey team from a small town in Alaska called Mystery, get national attention after a former resident writes an article praising them. Surprisingly, this earns the now not so mysterious team from Mystery, Alaska, a game against THE New York Rangers. Will the Mystery team that is led by the town sheriff (Russell Crowe) and is coached by the town's strict judge (Burt Reynolds), have a chance against professionals who get paid millions of dollars to play the game they love? Let me make it short, I have never been a hockey fan in my life, but I really enjoyed this movie a lot, and my mom doesn't like any sports, and she even liked it. Even if you're not a hockey fan in the least sense or even a sports fan, give "Mystery, Alaska" a shot. It doesn't have any spectacular special effects or anything fancy, and that's good because it didn't need it. But let me tell you, this movie never gets boring the whole time and it features great acting from everybody, especially Burt Reynolds and Russell Crowe. NOTE: That was my Amazon review from the year 2001. I liked this movie and I don't even like hockey.
Jason Owens
Super Reviewer
½
I love ice-hockey in comedy film since Slap Shot and The Mighty Ducks series, but this is a hilarious tale of romance, passion and the ultimate power play.
Dean McKenna
Super Reviewer
½
It was the usual sports movie. The underdog takes on the top dog.
Jason Spencer
Super Reviewer
Mystery, Alaska Quotes
| | |
| --- | --- |
| "Skank" Marden: | ...we're sleeping together for god sakes! |
| "Skank" Marden: | No, no... We're sleeping together, for God's sakes. |
| Mary Jane Pitcher: | Skank, we're commiting adultery! |
| | |
| --- | --- |
| "Tree" Lane: | I'm a big guy!!! |
| "Tree" Lane: | I'm a big guy! |
| | |
| --- | --- |
| Stevie Weeks: | I'm a premature ejaculator! |