Narayama bushiko (Ballad of Narayama)
(1958)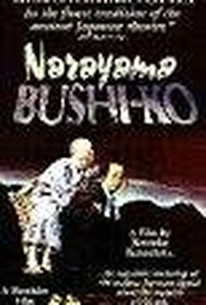 Narayama bushiko (Ballad of Narayama) Photos
Movie Info
Adapted from a novel by Shichiro Fukazawa, The Ballad of Narayama is built around an ancient Japanese custom. Centuries ago, it was customary for the younger citizens of a remote Japanese mountain village to shepherd all those over the age of seventy to the snowy crags of Mt. Narayama. There the elders would be left to die from exposure and starvation--a fate they were expected to meet with stoic resignation. As the film observes, this custom was not universally accepted even in ancient times: Some of the old folks put up a physical struggle against their exile, others accept the inevitable under verbal protest, and some of the younger relatives question whether they have the right to go along with this questionable "cleansing" process. Heartbreakingly brilliant, The Ballad of Narayama was remade in 1983; the latter version won the Grand Prize at the Cannes Film Festival. ~ Hal Erickson, Rovi
Critic Reviews for Narayama bushiko (Ballad of Narayama)
Audience Reviews for Narayama bushiko (Ballad of Narayama)
The Ballad Of Narayama is one of the most peculiar Japanese films I've ever seen. Though I was aware of the plot, nothing can really prepare you for it as it is something of its own identity. It's hard to really put into words what makes the film it is, as its numerous intriguing elements are all superbly made, but it's something of which you will probably never see the likes of again. It's something that feels very steeped in Japanese culture, so perhaps I'm enjoying it only as an ignorant foreigner because of how fascinating and strange it is to me as an American. But, if I'm only enjoying it as an exotic piece, then never let me wake from such blissful ignorance because it's something truly exceptional in my eyes. In a mountain village, it is customary for citizens who reach the age of 70 to be taken up to Mount Narayama and be left to die by their families to basically make room for the younger generations. The story follows a woman named Orin, who is a beloved woman in not only her family, but the village as a whole because of her exceptional kindness to anyone she meets. Unlike some people her age who don't want to accept their fates of being taken to Narayama, she seems to be willing and happy about her journey to be taken at the beginning of the new year. She becomes fully at rest with her fate when her widowed son gets a new wife who was also widowed, so now she no longer has to worry about him, while her awful, mean-spirited grandson is expecting a child of his own (And sings cruel folk songs about his grandmother and seems eager for her to die and make room in their ever-crowding home). Her son, however, is dismayed by the fact that not only is his mother's time almost up, but he is the one who must take her to Narayama and leave her to die of exposure and starvation. The family spends their precious little time together as best they can, before her cruel journey to her demise begins. He must also experience his own spiritual experience during this journey on the mountain, as well as Orin, as she prepares herself to meet the gods and be at peace when she finally dies. The story feels like a dark, saddening fable. Though such a thing was considered customary in ancient times, it's certainly something alien and horrifying to a viewer when they begin watching this film. It was a hard pill to swallow at first, as I was left going, "What the fuck is wrong with these people?!" frequently. But, as the viewer follows, especially as they gauge the emotions of the characters and the overall cultural feeling about death, something strange begins to occur. Make no mistake, I still think that the ritual is quite cruel, but there was something in the way that they embrace death - no regrets, no worries about loved ones, acceptance even though their deaths will be awful and torturous, and their attempts at gaining a spiritual enlightenment that seemed to ease my thoughts. They also display the torments of Orin's son, as this is something that is in no way easy, as death is a hard fact of life that is hard to accept. The best way I can sum it up is that it shows death on two different levels: acceptance as a fact, and also showing the harsh reality of not wanting to accept it. Still, the story offers to many things that it will require multiple viewings to really piece together all that it has to say. But its main themes revolve around death, family, and spirituality. The acting is very good, especially from Kinuyo Tanaka as Orin. She delivers the best performance in the film and there was a kind of gentleness to her even with her character's horrible fate awaiting her. She had a very easygoing and subtle performance that proves to be quite powerful, especially with the ending when you see her praying to the gods while snow covers her and she seems unfazed by the elements around her, achieving her spirituality it seems, though nothing in this film is deciphered easily. The rest of the actors are also really good, especially the actor playing the son as he is forced to endure this ritual and leave his own mother to die on the mountain. The Ballad Of Narayama isn't easy to watch, offers no easy answers, and may even disturb the viewer with its themes, but if you really take the time to absorb all it has to say and what it does, it's something special. It's a challenging and emotional film that tells a sad, but also strangely uplifting tale about death and coming to terms with your life up to that point. It also has startling and beautiful imagery, making it not only feel like a sad fable, but also like some sort of strange play you're following. It's something all its own and there are many emotions the viewer will feel as they process all that it has to say, even if what it has to say is cruel, harsh, and soul-crushing at times about life. It's a magnificent film that is worth watching, but you have to be careful with it.
Keenan Sullivan
½
Wow, that was horrible. Can't believe I actually sat through it. Good, but horrible. Although, truthfully I can think of a few 70+ people I know who could do with going up that mountain!
Nicki Marie
Super Reviewer
½
A brilliant and methodically made and enacted Japanese classic. This was also the last of the "Great Films" in the great Roger Ebert's film reviews section. The film is one of sadness and the ending of life, an era that will lead to new beginnings hopefully. I believe it will, like the film portrays, mean the Mr Ebert is in a better place now.
Chris Browning
Super Reviewer
Narayama bushiko (Ballad of Narayama) Quotes
There are no approved quotes yet for this movie.
Discussion Forum
Discuss Narayama bushiko (Ballad of Narayama) on our Movie forum!