Night Of The Living Dead: Resurrection
(2012)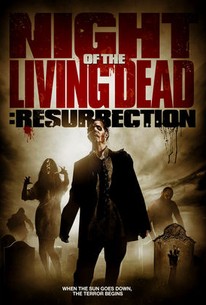 AUDIENCE SCORE
Critic Consensus: No consensus yet.
Movie Info
A West Wales family holed up in a remote farmhouse learns that in a world taken over by flesh-eating corpses, mankind is still the most dangerous threat of all in this zombie shocker inspired by George A. Romero's Night of the Living Dead.
Critic Reviews for Night Of The Living Dead: Resurrection
All Critics (1) | Fresh (0) | Rotten (1)
Director James Plumbs' zombie picture is yet another terrible and dunderheaded indie zombie film that fails to re-think the sub-genre.
Audience Reviews for Night Of The Living Dead: Resurrection
Night of the Living Dead: Resurrection is yet another remake of Romero's classic "Night of the Living Dead". Unlike previous remakes where at least one redeeming value could be found this one has none. It's a prime example of how not to make a horror film. Night of the Living Dead: Resurrection is about a family trapped in a house during a zombie apocalypse in Wales. From the start this film does everything in its power to make sure you hate it. Within the first twenty minutes the film switches from following a group of teenagers to following a concern husband with both set of characters solely created for filler. Neither of these characters play any kind of role latter on in the film. The first twenty of the film are pointless and serve no purpose other than to pad out the film above one hour. Once in the twenty minute mark the film central characters are introduced and make a poor first impression. Seeing a father and his oldest son lie to their family about killing an actual man is not a great introduction for our heroes. What occurs next is the thinnest and dumbest plot for any horror film possibly ever made. It uses a sub-genre cliche of families having trouble killing their love ones turning it into an entire film. If written better this cliche turned story could have explored some grey area topics like family members choosing the fate for their incurable suffering love ones. On occasions character bring up arguments whether or not to kill a love one, but these arguments only present one sided solutions. Doing the opposite clearly is not the answer with audiences regardless of their exposure to horror films can immediately map out what fate has in store for each individual character. None of the characters are sympathetic by any means. One of the survivors is a married man who has no problem cheating on his ill wife with her sister seconds after she gets bitten by a zombie. Now where this remake fails beyond comprehension and strays away from good taste is the final words the film chooses to end with. The final line said in the film is "Put her in the rape van". Out of context it's leaves a bad taste in your mouth and deemed unfair to hold it against it, but in context it's even more tasteless. A lone survivor makes it through the whole zombie/human attack ordeal and this character (along everyone else) was poorly written. This character only major development is she had sex with her sister husband several times. In no way, shape, or form is this character given any redeemable qualities. This whole "rape van" ending is cheaply use to make us sympathize for a character with nothing to like. For a film titled "Night of the Living Dead: Resurrection" the living do more harm than the undead. Unaffected humans kill more people in this film than the undead. The undead rarely makes an appearance even disregarding basic knowledge of the spread of disease (apparently if you just clean your zombie bite with water you're cure). Because of little zombies it has a low budget feel it could never detach itself from. The cinematography is grainy with lighting too dark making it difficult to see what's on screen. Special effects so cheap looking salsa would make for better blood effect than anything this film has to offer. As for acting it's nonexistent. These "actors" awkwardly spout lines of dialogue, have no chemistry, and never feel comfortable doing any action. Night of the Living Dead: Resurrection has too little plot, too little zombie, and too many inexperience filmmakers incapable to overcome their limitations. It won't entertain fans of the original, fans of horror film will hate it as well falling below a generic zombie film, and for the average viewer it gets nothing right in any area.
Caesar Mendez
Super Reviewer
Night Of The Living Dead: Resurrection Quotes
There are no approved quotes yet for this movie.