Nocturnal Animals
(2016)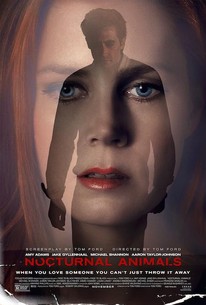 TOMATOMETER
AUDIENCE SCORE
Critic Consensus: Well-acted and lovely to look at, Nocturnal Animals further underscores writer-director Tom Ford's distinctive visual and narrative skill.
Movie Info
Winner of the Grand Jury Prize at the 2016 Venice International Film Festival. From writer/director Tom Ford comes a haunting romantic thriller of shocking intimacy and gripping tension that explores the thin lines between love and cruelty, and revenge and redemption. Academy Award nominees Amy Adams and Jake Gyllenhaal star as a divorced couple discovering dark truths about each other and themselves in NOCTURNAL ANIMALS.
News & Interviews for Nocturnal Animals
Critic Reviews for Nocturnal Animals
Audience Reviews for Nocturnal Animals
½
Fashion designer Tom Ford made a big splash with his debut film, 2009's A Single Man. It was a gentle and introspective character study of a middle-aged gay professor determined to end his own life. It was lush, full of feeling, and anchored by a deeply humane performance from Colin Firth. In short, it is everything that his follow-up Nocturnal Animals is not. This is a movie overflowing with vacant artifice that is mistaken for profundity. Susan (Amy Adams) is an art gallery owner and living a posh life with her second husband, Hutton Morrow (Armie Hammer). She gets an unexpected present in the mail from her ex-husband Edward Sheffield (Jake Gyllenhaal). He's sent her his newest manuscript, a departure from his usual works. It's dedicated to Susan. With Hutton away on business, and philandering with a mistress, she dives into the story. It tells the story of Tony Hastings (also Gyllenhaal) and his wife (Isla Fisher) and teen daughter (Ellie Bamber) traveling through west Texas. They run afoul of some contemptuous locals lead by the sadistic Ray (Aaron Taylor-Johnson), who kidnaps Tony's wife and daughter. Left for dead, Tony teams up with a terminally ill police officer, Bobby Andes (Michael Shannon), to hunt down Ray and make him suffer for his crimes. As Susan continues reading, she goes through a mixture of emotions trying to determine what her ex-husband is trying to communicate to her within the subtext and metaphor of his sordid story. I grew increasingly restless with Nocturnal Animals because it failed to justify its excessive dawdling and vapid artistic pretensions. This is a movie that doesn't really know what it wants to be so it dabbles in many different genres, none of them fully convincing or worth the effort. It's a high-gloss erotic thriller, it's a gritty exploitation film, it's a morally compromised revenge thriller, and it's a subtle relationship drama amidst the upper crust of the L.A. art scene. It's none of these. It's two primary stories, neither of which justifies the amount of time spent on what amounts to so little. The worst offender is the frame story with Susan, which amounts to watching Amy Adams read for two hours. She takes a lot of baths and showers in response (symbolism!) but most of the cutaways and time spent with Adams is to merely watch her react. It's like she's a nascent studio audience handcuffed to tell us how to feel with her reactions. Would you have known that you should feel bad during onscreen death if we didn't cut back to Susan also feeling bad and concerned? It amounts to emotional handholding and it's grating, also because Susan is an terrible character. She's conceited and thinks she is owed better, which is why her mother successfully pressured her to dump Edward, a man well below her self-styled station in life. Her second marriage is crumbling apart and part of her sees Edward's out-of-the-blue note as a potential romantic rekindling. That's right, this is a person who reads a revenge opus that may be all about seeking cosmic vengeance against her, and she thinks to herself, "Ooo, I think he like likes me after all." Her self-involvement is rewarded in the end but the ambiguous ending is more just missing in action. Ford's film just peters out and leaves you hanging, just like its heroine. Edward's manuscript is easily the best story and even that is only by default. It's an easier story to get involved with because of the simple story elements that naturally draw an audience in, namely a revenge fable. The initial altercation with the family and Ray's crew lasts almost a half hour. Specifically the roadside confrontation itself is a solid ten minutes and it just goes round and round, repeating its overdone sense of menace. I wasn't dreading the horror to come but more so getting impatient for it to be over. Without depth to the characters or escalating stakes and complications, it all just amounts to a Texas hillbilly repeatedly threatening a cowering family for ten solid minutes. The vengeance in the second half of the movie is just as predictable and too drawn out. Edward schemes with Bobby Andes to take justice into his own hands, but the movie takes far too long to reach its predictable conclusion, which still manages to be so drawn out that I was screaming at the screen for the inevitable to finally happen. When the movie ended I felt a rush of relief to go along with my general sense of perplexity. Nocturnal Animals has the illusion of highbrow art mixing with lowbrow thrillers but it lacks the substance of the former and the courage of its convictions for the latter. Ford's mercurial taste in costuming and set design shows in every moment with Susan, as the sets feel exquisitely designed and the cinematography designed to encapsulate this. It's a good-looking movie but there's not enough under the surface. It's all empty window dressing to disguise the vapid whole at its center. Let's tackle the opening credits, which will most certainly capture your undivided attention. It's a foursome of overweight women dancing naked and in slow motion, their large bodies bouncing and jiggling to the self-serious musical score. Eventually it's revealed that these women are part of an installation exhibit in Susan's art gallery, and that's when you get a tip-off just how hollow and attention seeking the movie will be. The gallery consists of overweight women lying face down on raised platforms. That's it. No wonder her gallery isn't doing that well (note: not a fat-shaming comment but more a comment on the lazy application of its sense of "art"). You get a sense that Ford comes most alive in the scenes where he can arrange figures and images, not so much the demands of storytelling. I can already hear supporters saying I just don't get it; no, I got it because there's very little to understand with Nocturnal Animals. It's a story-within-a-story so we're already training our brains to look for parallels but they aren't obvious so they'll be more metaphorical. I kept waiting for it all to tie together in a substantial way by film's end, and sorry but it just doesn't (spoilers ahead). Edward has a whammy of a day when he discovers 1) his wife is pregnant, 2) she's aborted his child, and 3) she's in the arms of her new boyfriend, and he discovers all of this standing in the rain for further symbolism. He has a grievance against Susan, though we've been suspecting it for some time. His manuscript is a revenge thriller about a family murdered and how a weak man finds the strength to seek justice and retribution. The parallels are fairly obvious there, and the fact that there are only so many characters in the story-within-a-story means there are few options to play the analogue guessing game. I'll just claim that Ray is meant to represent Susan since he/she is the murderer of Tony/Edward's family. There's a reason that Tony's family all share Susan's red hair. He dedicated the book to her, after all, and said she was who made it all possible. From there you could argue whether Tony represents Edward's real past, weak and remorseful, whereas Bobby Andes is meant to represent how he wishes he could be, decisive and strong (end spoilers). That's about all the parallels you're going to find because the story-within-a-story only involves a very tiny number of characters. There just isn't much to go on here and yet Ford's movie stretches and drags and just keeps going until it reaches its predictable destination. There isn't any more depth here than straightforward avatars and even those are lean. I was debating a question with my friend Ben Bailey while we watched this movie, and that's whether the stakes are removed somewhat when you know that a storyline within a movie is fictitious. Knowing that Tony is a pretend person, does that eliminate some of the tension and investment in his storyline? I recognize this is a distinctly meta question considering that a majority of film characters are fictitious by nature, but I do think there's a different set of standards for the people of the story-within-a-story. I don't remember feeling less for the characters in A Princess Bride, The NeverEnding Story, or Adaptation. My only conclusion is that I just did not care a lick for any of the characters in Nocturnal Animals, whether they were fictional or twice fictional. They didn't deserve my attention just because pretty people were playing them. They didn't deserve my attention because Big Bad Things caused them to experience Big Emotions. Combined with the ponderous plot and the emaciated substance, the dull characters and the overwrought acting they inspire are a recipe for audience detachment. I can't help but shake my head as other critics trip over themselves to shower this film with overly enthusiastic plaudits. Nocturnal Animals is a tiresome exercise in lazy symbolism, patience-demolishing pretension, and emptiness masquerading as contemplation. Nate's Grade: C-
Nate Zoebl
Super Reviewer
The dialogue is a little bit heavy-handed sometimes, but still Tom Ford brings us a sophisticated and well-acted thriller about marital disillusion and resentment, blending reality with "fiction" using stunning scene transitions, superb editing and a gorgeous cinematography.
Carlos Magalhães
Super Reviewer
½
2016 hasn't been that memorable for blockbusters, but when you take the time to go out of your way to find the independent gems, films like Nocturnal Animals should definitely be something that stands out. Director Tom Ford has proven himself to be an extreme auteur after this outing, due to the fact that A Single Man has shown his style and Nocturnal Animals only further proves his style is here to stay. I heard about this film a few months ago and the trailer looked very interesting, but I truly didn't know much going into this film. If you are looking to have a suspenseful time at the theatre and are okay with a some weird imagery thrown in, Nocturnal Animals may just be what you have been searching for. I don't think it's perfect, but here is why I believe this film to be a terrific achievement. I will first off by saying that the opening credits to this film may turn off moviegoers, but it is the only portion of the film that will be off-putting like that. If you are able to buy into Tour De Force storytelling, then you may end up loving this film. At its core, Nocturnal Animals is a story that revolves around Susan (Amy Adams), an art gallery owner, who is sent a novel from her ex-boyfriend, which haunts her in a way that makes the audience think they are actually watching the real story of the film. This a very well-made film that straddles the line between real and imaginary. I happen to love films that leave aspects up to your interpretation and Nocturnal Animals pulls that off in spades. From an awesome performance in Kick-Ass to an average performance in Savages and Godzilla, actor Aaron Taylor-Johnson has been all over the map, even though I have liked him as a person for a very long time. By far, he is the most impressive actor in this film, embodying the persona of his character. I was mesmerized by his portrayal of the main villain of the story and every single scene he presented himself in blew me away. On top of that, Jake Gyllenhaal, Amy Adams, and Michael Shannon have always been fantastic, so it should come as no surprise that they would bring their A-Game to a film like this. In the end, I am going to find myself praising how well this film is made as far as filmmaking and storytelling goes, but the execution is not quite perfect in my opinion. Throughout the film, there are many times where it flashes back and forth between reality, non-reality, past, and present. There are so many time jumps that I feel certain audience members may become lost. Personally, I was able to follow everything and see that certain things were meant to be left to interpretation, which is what I admired most about this film, but there are elements that I feel would bug some viewers. That being said, that flaw wasn't very present to me and the more I think about it, it becomes another positive. Overall, Nocturnal Animals may just be one of my most enjoyable experiences of 2016, due to the fact that its storytelling was not afraid to take any risks in showing out-of-the-box imagery that would turn off some viewers. Having said that, there are a few very short moments that keep me from saying this is THE best film of the year, but it is terrific nonetheless. Within auteuristic filmmaking from start to finish, incredible performances, and a script that had be guessing from start to finish as well, this picture truly is one of the 2016 movies to remember. I believe you will be hearing about it come Oscar season and I highly recommend it if you can go into a film with an open mind. If you are someone that can accept a conclusion that doesn't quite have finality, you may just love this film like I did. Nocturnal Animals is fantastic!
Nocturnal Animals Quotes
There are no approved quotes yet for this movie.
Discussion Forum
Discuss Nocturnal Animals on our Movie forum!