Nostalgia for the Light
(2011)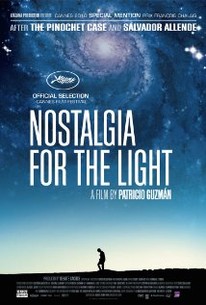 Nostalgia for the Light Photos
Movie Info
For his new film master director Patricio Guzmán, famed for his political documentaries (THE BATTLE OF CHILE, THE PINOCHET CASE), travels 10,000 feet above sea level to the driest place on earth, the Atacama Desert, where atop the mountains astronomers from all over the world gather to observe the stars. The sky is so translucent that it allows them to see right to the boundaries of the universe. The Atacama is also a place where the harsh heat of the sun keeps human remains intact: those of Pre-Columbian mummies; 19th century explorers and miners; and the remains of political prisoners, "disappeared" by the Chilean army after the military coup of September, 1973 So while astronomers examine the most distant and oldest galaxies, at the foot of the mountains, women, surviving relatives of the disappeared whose bodies were dumped here, search, even after twenty-five years, for the remains of their loved ones, to reclaim their families' histories. Melding the celestial quest of the astronomers and the earthly one of the women, NOSTALGIA FOR THE LIGHT is a gorgeous, moving, and deeply personal odyssey..--(c) Icarus
News & Interviews for Nostalgia for the Light
Critic Reviews for Nostalgia for the Light
Audience Reviews for Nostalgia for the Light
A beautiful, contemplative and deeply poetic exploration of the past in which Guzmán draws an intelligent parallel between our search for the origins of the universe through science and our general tendency to ignore our recent history, especially a chapter that should never be forgotten.
Carlos Magalhães
Super Reviewer
½
This movie does a great job of connecting what astronomers and archaeologists do in searching for answers by looking to the past, whether it be the past of the galaxy to find out the answers to the mysteries of the universe or studying artifacts that were left behind by previous civilizations and figuring out how they lived, and these woman who are searching for the remains of their loved ones who were murdered during Pinochet's dictatorship. These women are searching into a past that, for some reason or another, the Chilean government, and perhaps its people, wish to move away from and they wish to keep it hidden. And it is really heartbreaking how these women are sort of maligned for not letting go of what happened, even if what happened was absolutely awful and something that shouldn't ever be forgotten, no matter how ashamed you are of it. So the movie does a good job at connecting these two vastly different things but, essentially, both are searching for the same kinds of answer. There's a poetic narrative to this film that certainly helps a lot in getting over the importance of how you simply should not forget your past. There's also some beautiful shots of the galaxy and the cosmos, which are really cool. If there's a problem with the movie is that the first 20 or so minutes are incredibly slow and that really keeps this movie from at least 4 stars, but other than that it's an excellent documentary that, even if it isn't famous, will hopefully keep this memory of what happened alive. I'd definitely recommend it regardless.
Jesse Ortega
Super Reviewer
"Nostalgia for the Light" is an impressive and powerful cine-essay from Patricio Guzman that is marred only by some unnecessary effects work, especially considering the naturally spectacular Atacama Desert of Chile which resembles Mars on display.(So, I would not be surprised if it has ever been used as a location for a science fiction movie.) Its height of 5,000 meters is optimum for the use of telescopes to look backwards into the history of the cosmos.(To the film's credit, there is one astoundingly mindbending bit of metaphysics arguing that due to the speed of light, there is no true present.) As we are informed, this is in a country that going back to colonial times has had a problem with how it views its past. This continues to the present day's challenges with how it deals with the mass killings committed under the Pinochet dictatorship. With the desert's total lack of humidity(the only place on earth like this), it preserves ancient artifacts extremely well, not to mention more recent bodies that were dumped there(one is found during filming) in the hope of never being found again. However, an intrepid group of volunteers carry on their neverending search to find closure for themselves and loved ones. In the end, one has to come to terms with the past before one can look to the future and maybe eventually to the stars.
Nostalgia for the Light Quotes
| | |
| --- | --- |
| Narrator: | Compared to the immensity of the cosmos, the problems of the Chilean people might seem insignificant. But if we laid them out on a table, they would be as vast as a galaxy. |