Nuts
(1987)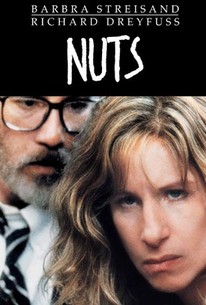 Movie Info
High-priced hooker Claudia Draper (Barbra Streisand) has been arrested for the murder of one of her clients. The attorney engaged by Claudia's parents hopes to cop an insanity plea so that she can avoid a trial and manslaughter conviction. But she refuses this, citing a proviso in New York law that may result in her spending the rest of her life in an institution. Against all odds, struggling lawyer Aaron Levinsky (Richard Dreyfuss) tries to prove that Claudia is not crazy and is capable of standing trial. He certainly has his work cut out for him; from what we've seen in the film thus far, the violently impulsive Claudia is not only "nuts," but certifiably so. Though she has plenty of opportunity in Nuts to give out with her usual bravura Streisandisms, Streisand (who also produced the film and wrote the songs) is surprisingly restrained through most of the proceedings. And then there's that extended-monologue climax. Nuts was adapted by Tom Topor, Darryl Ponicsan, and Alvin Sargent from Topor's stage play.
Audience Reviews for Nuts
It seems to me that the problem with this movie is that it was made about 12 years too late. If what we see had been shot in 1973 to 1977 it might feel sort of "edgy" --- but, it feels almost tragically out-dated for the 1980's. That being said, this is an interesting film. Streisand delivers a solid turn in the tradition of a movie star. This is foul-mouthed melodrama. There are moments of unintended camp - such as every male in an upscale Manhattan bar turning his head to check Babs out. ...This would never happen. But, that scene aside she is believable in the role. If you are at all familiar with top escorts -- they are not all traditional raving beauties. Oddly, had another actor been cast in her role it might have made this movie an easier sell. Dreyfuss is quite effective. And, for all the predictability, this movie does offer up a solid reflection of the implications of sexual child abuse and survival. Also worth nothing that Martin Ritt did not offer up the expected 1980's easy resolution. The question of sanity is never answered. Worth a look.
Matty Stanfield
Streisand produced, developed the script, and composed most of the music for this showpiece, and her efforts, as usual, pay off, above all in her angry and lively performance.
Greg Wood
½
It was slightly unbelievable for me since if I'd such a client to defend who is not willing to co-operate the least, I don't think I'd touch that case. Or else give up easily. Then again, I ain't no lawyer!!! They show her crossing the limits so many times that it becomes hard to digest it that she ain't a nut. Leaving aside this minor problem, the movie works fine as a courtroom drama.
familiar stranger
Super Reviewer
Nuts Quotes
There are no approved quotes yet for this movie.
Discussion Forum
Discuss Nuts on our Movie forum!