Oasis
(2003)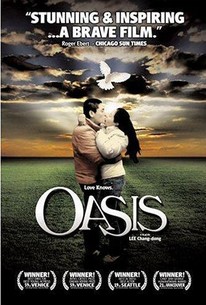 Movie Info
Korean director Lee Chang-dong's drama begins on the day that Jong-du (Sol Kyung-gu), a mentally handicapped young man, is released from prison. He is immediately arrested again for being unable to pay a restaurant bill, and his brother bails him out and sets him up with a menial job and a place to live. The crime that originally landed Jong-du in prison was a hit-and-run accident that resulted in the death of an old man. One day he goes to visit the victim's family, and meets Gong-ju (Moon So-ri), the man's daughter, who has cerebral palsy. After a disastrous first meeting, the two begin an unlikely love affair that exposes the callousness and uncomfortable secrets of both of their families.
Audience Reviews for Oasis
½
I'm starting to think that Lee Chang Dong might be South Korea's best kept secret. Oasis is another stunning film from one of South Korea's premiere directors. Recently released from prison, Jong-Du squeezes his way back into the care of his family who in turn attempt to weave him into the fabric of society. Yet, no matter how carefully you attempt to braid two dissimilar fabrics, let's just say burlap with calico, it just simply doesn't piece together well. Regardless of intention, Jong-Du's family cannot help but judge him in relation to the rest of society. His inability to wait for others to finish their sentences before joining the conversation, among other matters, is a constant source of concern for his brother. Try as they might to force awareness into Jong-Du's mind, some adhesive that helps to bind him mentally to the world at large, Jong-Du still marches to the beat of his own drum. So when he meets the acquaintance of Gong-Ju, a woman suffering from cerebral palsy & the neglect of her own selfish family, they have no problem carving out their very own space. Creating an oasis in a climate that can so easily run you dry. Although they suffer a rocky start, the two find in each other a comfort. A way out of the limitations that confine them; whether they be imposed by one's own body or by others. Many Americans will most likely draw parallels to "The Other Sister", a film that touches on similar themes, but does so in a way that uses the societal impropriety of the mentally handicapped as fodder for comedy. Formerly serving as South Korea's minister of culture & tourism, Dong knows all too well that no two spheres can coexist peacefully. Two salmon fighting against the current will not only agitate those who feel like they know the right direction in which to paddle, but the sheer strength of the rushing water will forcibly correct the wayward swimmers. Dong also shows that although these characters may not be fully aware of the consequences of their actions, they are not free from responsibility. They are broken people who make questionable decisions as well, just in different ways. A decision that gives these characters more dimensions than most filmmakers could handle while still having the audience care about their plight. The success of this film hinges on lot on the performances. Moon So-ri's turn as the young woman is particularly stirring. It isn't a particularly flattering or a scene stealing performance (see Sean Penn in I Am Sam), it is precisely what it needs to be; a woman emotionally and physically crippled, unable to break out of the restraints of her disorder. Yet it is handled with such restraint that one cannot help but be left in awe. From film to film, Lee Chang Dong has shown that he is truly capable of nuanced human dramas regarding complicated issues. I stated before that he might be South Korea's best kept secret. But if he keeps up this streak of stellar work, he won't be able to remain a secret for much longer.
This is one of the most painfully beautiful movies ever made. Oasis is the story of a man that is responsible for the death of a man in a drink driving accident. Upon his release from prison he goes to the man's children to apologise. Oasis has no easy emotions or answers. Characters are complicated and real, with a young disabled girl gradually falling for a man that tried to rape her. It isn't an always pleasurable love story, it deals with difficulties and also acceptance. The performances are incredibly powerful. Each one captures their character and plays them out at a believable pace. This rare film manages to mix everything that is great and important about cinema.
Luke Baldock
Super Reviewer
A love story told in a brutally honest way. In the hands of someone else this could have failed miserable, it could had become another dumb feel-good fantasy love film. Yet here the movie remains so focused in what is doing, from start to finish, that is almost scary. A lesson in movie making, in acting and so on.
Tsubaki Sanjuro
Super Reviewer
Oasis Quotes
There are no approved quotes yet for this movie.