Oddball and the Penguins (Oddball)
(2015)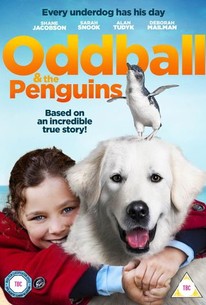 Movie Info
An eccentric chicken farmer, with the help of his granddaughter, trains his mischievous dog Oddball to protect a penguin sanctuary from fox attacks in an attempt to reunite his family and save their seaside town.
Critic Reviews for Oddball and the Penguins (Oddball)
Audience Reviews for Oddball and the Penguins (Oddball)
The film has likable stars and a lovable Oddball canine but the filmmakers throw a lot of quick humour into the mix, not directly aimed at children either. There was a true story to be told here but what you have is a fluff piece, everything is tightly tied into a bow for the family crowd. Jacobson is the film stealer in an otherwise par film, he is the true heart of the film when the family goes by the wayside. I'm not sure who the film was aiming to attract as the comedy just doesn't work, relying on Australian lingo and set pieces was the wrong way to go. There was potential for a truly great film here and I think they missed a giant opportunity. 28-01-2018.
Brendan Nicholls
Super Reviewer
Penguin Island may lose its name if the population isn't protected against furry marauders. One family has the solution, if they can solve their differences and manage to come to some agreement in time. The film restrains itself from the curse of the usual too cute family drama and becomes wholesome family entertainment instead. Okay, okay, there's cute too, but hey, it's got penguins and doggies, f'cryinoutloud, whachu expect?
Kevin M. Williams
Super Reviewer
Oddball and the Penguins (Oddball) Quotes
There are no approved quotes yet for this movie.