Pale Flower (Kawaita hana)
(1964)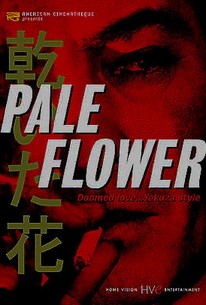 Pale Flower (Kawaita hana) Photos
Movie Info
Masahiro Shinoda's brilliant film opens with mobster Murakami just getting released from prison for murdering a member of a rival clan, only to learn that during his internment, the two syndicates arranged a truce. Not unlike the protagonist in Albert Camus' The Stranger, Murakami's motives for killing were vague and that life holds little value for him. At an illegal gambling parlor, he finds himself drawn to a mysterious waif-like young woman named Saeko (Mariko Kaga) who lives life from one thrill to the next. Though she seems remarkably adept at losing large sums of money, she asks Murakami to find games with larger and larger stakes. Soon they become involved in an intense mutually destructive relationship. High stakes gambling and racing her little sports car eventually grow tiresome, and Saeko becomes attracted to drugs. Instead of dope, Murakami offers to let her watch him kill a rival clan leader, describing it as the ultimate thrill. ~ Jonathan Crow, Rovi
Critic Reviews for Pale Flower (Kawaita hana)
Audience Reviews for Pale Flower (Kawaita hana)
a fresh, unique take on the yakuza films of that time. the characters are not atypical, but the focus of this story really is. clan rivalry and looming violence permeates the story but the heart of it is about a romanticism that never quite finds its expression. the film is about the romantic timidity of otherwise confident and assertive people. the climax is so effective as we never really find out what we thought we wanted to know about "the pale flower" of the gangster world, but we're somehow ok with that because our main character is ok with that. a great film.
*sigh* '64 not '74. in a lonely place as directed by melville and set in tokyo
Stella Dallas
Super Reviewer
While the French were creating the new wave movement of the 50s-60s, Japanese studios were turning out bold, fresh, new films. The yakuza drama is as old as Japanese cinema itself, but director Masahiro Shinoda joins it with expressionism and shadowy western noir themes that lean more towards fate and love than your average gangster flick.
El Hombre Invisible
Super Reviewer
Pale Flower (Kawaita hana) Quotes
There are no approved quotes yet for this movie.