Paris Can Wait (Bonjour Anne)
(2017)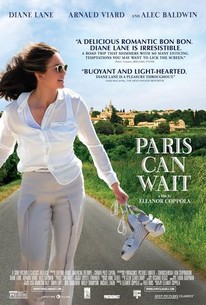 TOMATOMETER
AUDIENCE SCORE
Critic Consensus: Paris Can Wait's likable stars are ill-served by a film that lacks interesting ideas or characters and has little to offer beyond striking travelogue visuals.
Paris Can Wait (Bonjour Anne) Videos
Paris Can Wait (Bonjour Anne) Photos
Movie Info
When her director husband is occupied with work in Paris, an American woman takes a jaunt with his business associate, a charming Gallic rogue who is happy to squire her on a tour of some of the finest meals in Provence. The first feature directed by Eleanor Coppola, wife of Francis and director of the "Apocalypse Now" documentary "Hearts of Darkness".
News & Interviews for Paris Can Wait (Bonjour Anne)
Critic Reviews for Paris Can Wait (Bonjour Anne)
Audience Reviews for Paris Can Wait (Bonjour Anne)
An acceptable but ultimately forgettable romantic trip across France. It's the sort of movie that your mother would gush about.
John Ballantine
Super Reviewer
As soon as the "Lifetime Movies" card popped on screen, I should have just shut this thing off and watched "Commando". "But it's by a COPPOLA", I said to myself, "it can't be that bad, right?" Eleanor, Francis Ford's wife, has been a documentary film-maker for decades, chronicling the making-ofs and behind-the-scenes of her husband and childrens' feature films. "Paris Can Wait" marks her first foray into non-documentary feature film making, and I think I'd prefer watching a water buffalo being slaughtered instead of this insipid pap. The nonexistent story concerns the wife of a successful filmmaker (imagine that!) on a road trip through France with one of her husband's French business associates. The entire trip is composed of food porn and the Frenchie mansplaining to Diane Lane everything from Roman history to Escargot. "Jou-see, yu Amewikahns do sings lahk ziss, but we Fronsh are supairiair en everay possibul weh. Uh hong hong." She sits passively in the car waiting for her obnoxious cohort to take them to the next picnic or 5 star restaurant, occasionally taking mediocre looking pictures on an extremely expensive camera that would make any shot look professional. In that span of time, we find out she likes roses and chocolate, just like every other person in her pandered-to demographic. Then there is the Lifetime Movies trademark weepy scene where they try to shoe-horn in some emotional depth by having her suddenly remember in a candle-lit church that her baby died. Somehow, someway, the Frenchie annoys her into being attracted to him, and we are left with Lane half-winking at the camera, contemplating the prospect of cheating on her husband. I would only recommend this movie to rich, white, elderly women who don't want to think about anything. As for me I'm swimming up the Nung river to start a Vietnamese death cult after witnessing the horror...the horror...of "Paris Can Wait".
K Nife Churchkey
Super Reviewer
Anne's daughter summed up this movie succinctly when she asked her what she was doing and when told she responded "that sounds boring" and indeed it was. Poor Diane Lane stuck with insufferable dialogue and a creepy French dude. A few Michael Caine impersonations would have helped. Nice scenery but an emotional flat road trip. (6-10-17)
Paris Can Wait (Bonjour Anne) Quotes
There are no approved quotes yet for this movie.