Partie de Campagne (A Day in the Country)
(1936)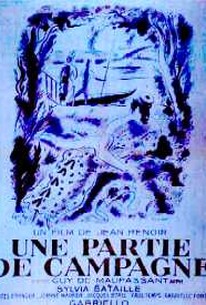 Partie de Campagne (A Day in the Country) Photos
Movie Info
Jean Renoir's A Day in the Country is a short and semisweet romantic vignette based on a story by Guy de Maupassant. A group of family members spend a day away from the city in the French countryside. While the men go off to fish, the mother (Jeanne Marken) has a harmless flirtation with a rural "rake," while the daughter (Sylvia Bataille) has a more serious liaison with a handsome young man (George Saint-Saens). Fourteen years later, the same family vacations at the same spot. The handsome stranger returns, hoping to renew his affair with the daughter; unfortunately, the girl is now married to a dull, insensitive jerk. The two former lovers ponder what might have been, then the family heads back to the city. A Day in the Country currently exists only in a 40-minute version; Renoir had planned to film scenes depicting what happened in the years between the two holidays, but he closed down production due to an acute "creative block." For this reason, although the film was shot in 1936, it wasn't released to theaters until ten years later. For its American distribution, Day in the Country was bundled together with two other short European films -- Jofroi and the controversial The Miracle -- as the portmanteau film The Ways of Love. ~ Hal Erickson, Rovi
News & Interviews for Partie de Campagne (A Day in the Country)
Critic Reviews for Partie de Campagne (A Day in the Country)
Audience Reviews for Partie de Campagne (A Day in the Country)
½
This uncompleted film clocks in at a short, unfortunate running time of about 40 minutes. And what a perfect 40 minutes it is. Jean Renoir so beautifully and elegantly tells a tale of romance and love that emerges from a story of two glib countryboy fisherman prying on Parisian women, hoping for another catch. By using the pastime of fishing, Renoir creates a comical, and sometimes dark, look on bourgeoisie conduct. His cinematography is breathtaking and resonant of the most beautiful pastoral or romantic paintings. Inevitably, my biggest complaint is the short running time even though the presented 40 minutes are just 40 minutes of cinematic perfection. But, the short running time does take a toll as some of the satire and characterizations do feel like they would benefit from extra scenes to flesh them out. As the two lovers whose unprecedented love grew out of a tumultuous storm take a look at each other and contemplate what might have been, we in the audience contemplate what "Partie de Campagne" might have been had Renoir been afforded the ability to complete this film. Nevertheless, that is still asking for too much; what we see is what we get, and perhaps the tight, fluid, and magical 40 minutes displayed were all that Renoir needed to enchant us.
Edward Stymest
Super Reviewer
Partie de Campagne (A Day in the Country) Quotes
There are no approved quotes yet for this movie.