Pater
(2011)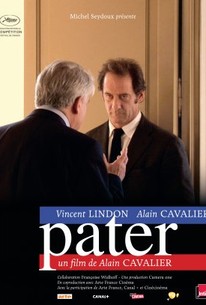 AUDIENCE SCORE
Critic Consensus: No consensus yet.
Pater Photos
Movie Info
Vincent Lindon and Alain Cavalier are pals. Like father and son. They sip port in bars dreaming of a film they might make. Together. Then just once in a while, they don suit and tie. Play men of power. See how much trouble they can make. For a laugh. They tell a tall story, that's part really personal, part, well - just plain tall. Only, as ever at the movies, there's that excellent question no one can answer: is it really all make-believe? -- (C) Pathe
Rating:
NR
Genre:
Directed By:
Runtime:
Studio:
Pathé Distribution
Cast
Critic Reviews for Pater
All Critics (2) | Top Critics (1) | Fresh (1) | Rotten (1)
I didn't get it, and neither did any other American I spoke to, but the French were applauding madly throughout, apparently in response to policy statements.

Audience Reviews for Pater
And now for something a little different... In "Pater," director Alain Cavalier casts Vincent Lindon in this new film he is making that he is also starring in. Cavalier plays an aging French President who appoints a reluctant businessman played by Lindon to the post of Prime Minister. Together, they try to agree on a maximum wage while facing security concerns. The tricky thing about "Pater" but not the movie within the movie is how hard it is to keep track of what is real and what is not, even with the occasional fade to black. And sometimes this also affects Vincent Lindon when he is not ranting about a new elevator in his building. Although it is worth noting how much the politicians' relationship mirrors that of star and director. But what makes "Pater" passably worthwhile even as it slogs through its dress rehearsal in spots is the final scene where Alain Cavalier and Vincent Lindon literally turn the cameras on each other.
After playing at the Cannes film festival almost a year ago, and then reappearing as part of the "Rendezvous with French Cinema" series earlier this month, it surprised even myself to catch up with this relatively obscure French drama about a group of older friends (with most famous cast members being Vincent Lindon and Alain Cavalier, both playing themselves) who take pleasure in dressing up as members of the French government, and videotaping their reenactments of possible governmental scenarios. While I'd heard very little of the film before viewing the screener, I remembered Vincent Lindon's name from various posters when the "Rendezvous with French Cinema" came to my local independent movie theater, and understood the pedigree of nomination for the Palme d'Or prize at Cannes. I also did a bit of research on IMDB as well, and discovered of its multiple nominations at the French Cesar Awards, including Best Director and Best Film. Though the premise was definitely a bit out-of-left-field compared to the movies I usually enjoy, my curiosity inspired me to overlook any possible setbacks or reasons for procrastination, and begin as soon as possible. However, once the film begun, it never seemed to end. Pretentious filmmaking is something I'll never completely enjoy, but I've at least come to terms with. In fact, Melancholia, a Lars von Trier film pretentious in almost every sense of the word, was one of my favorite films to be released last year. However, a fine line exists between pretension and utter self-indulgence; a line which Trier walked very well through stunning cinematography, and obtaining breathtaking performances from his willing cast. While Melancholia played at the Cannes film festival akin to the subject of this review, it's sadly not the best comparison to form in terms of cinematic quality. Rather, a far better example would be the its subpar festival companion; Julia Leigh's Sleeping Beauty. A brutally slow paced film about elderly men who relieve their perverse fantasies through a comatose escort, this very indulgent (also reviewed!) drama has more in common with Pater other than plot subtleties. Director Alain Cavalier, who plays himself as a character as well, has concocted a hopelessly dull crawl of a film, which unlike Leigh, cannot compensate for lack of general narrative or written characters with cinematography due to a mockumentary format coupled with extreme micro-budgeting. It's a perfect storm of dilemmas; no well established characters, no real plot, no regard for cinematography, and more unnecessary monologues sharing political viewpoints than an off-broadway one man show. The deadly fusion of these four characteristics results in complete boredom. After viewing Pater, I'm almost debating with myself whether I accidentally viewed a rough cut of the film by mistake. Cavalier has done an almost nonexistent job editing his film, which makes me question the very logic of the Cesar awards for the nomination of director, let alone picture. Between this and Sleeping Beauty, it also partially forces me to question those responsible for Cannes submissions as well, but to a far lower degree. Hopefully those were truly the only two real mess-ups for the whole festival, and it's bad luck I happened to watch both of them. Maybe I'm right; I was given a rough cut by accident. Everything would be clearly explained, except how to return the 105 minutes back into my lifespan. Grade: D
David Unterberger
Discussion Forum
Discuss Pater on our Movie forum!
News & Features