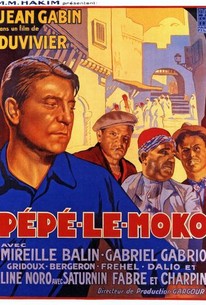 Pépé le moko
1937, Drama, 1h 34m
31 Reviews
1,000+ Ratings
Where to watch
Subscription
Rent/buy
Rate And Review
Movie Info
Pépé le Moko (Jean Gabin), one of France's most wanted criminals, hides out in the Casbah section of Algiers. He knows police will be waiting for him if he tries to leave the city. When Pépé meets Gaby Gould (Mireille Balin), a gorgeous woman from Paris who is lost in the Casbah, he falls for her. She also reminds him of all the things he loves about Paris. Even as Pépé knows he is being trailed by Inspector Slimane (Lucas Gridoux), he considers a future with Gaby.
Genre: Drama

Original Language: French (France)

Director: Julien Duvivier

Producer: Raymond Hakim

Writer: Jacques Constant

Release Date (Theaters): wide

Release Date (Streaming):

Box Office (Gross USA): $153.9K

Runtime:

Distributor: Criterion Collection, Rialto Pictures
Audience Reviews for Pépé le moko
Famous French jewel thief Pepe is hiding out in the Casbah in North Africa where he has become the boss of everything ... except his own life, because if he tries to leave the multi-diversity enclave of crooked streets and rooftops the police'll see he does 20 years at the very least. After 2 years the poor guy is going crazy thinking that it'd be better to be nobody back home in the City of Lights than to be king in the African stronghold. With the usual suspects as henchmen, and beauties as alluring bait, this old black and whiter is chock full of nuance, subtlety, and romance. Very entertaining.

Hollywood may have had its famous gangsters and femme fatales during the 30s (and even the 40s), but Jean Gabin's landmark performance became the chauvinistic and unscrupulous icon for subsequent gangster portrayals. Despite its cheap budget, Pépé le Moko has an intriguing story that would be borrowed by several French, Italian and American classics (most notably <i>Casablanca</i> (1942) and wonderful locations easily appreciated by a remarkable cinematography. It's a longstanding legend. 99/100

Okay foreign movie, but I should really watch it again before I write more about it.

I should confess something up front: I'm not much of a "Casablanca" fan. For me, it's just a solid B-movie which happens to have two legendary actors and an unusual number of quotable lines. Released five years before "Casablanca," "Pépé le Moko" obviously influenced its more famous successor. For starters, we get an exotic, North African setting (Algeria, in this case) which might as well be credited as a co-star. There's also an anti-hero, a doomed romance, a notable piano scene, a colorful batch of side characters and, yes, plenty of fezzes. So, three cheers for "Pépé"'s spot in an important cinematic timeline. But this is a foreign movie for people who don't like foreign movies. It may be French, but the filmmaking scans as old Hollywood. Jean Gabin is Pépé, a master bank robber who's hiding out in the seaside Casbah district. Described onscreen as a "teeming maze," it's a fantastic collection of sets. The homes are chaotically crammed together such that the sky is barely visible, and there doesn't seem to be a pair of perpendicular streets anywhere (or a level surface larger than a bedroom). An opening police briefing serves as a wonderful introduction to the territory, but the plot soon zeroes in on Pépé. He hardly does anything worse than raise his voice during the film, but we're assured that he's a ruthless criminal with a long list of spectacular thefts. He has a diverse entourage who jockeys for his attention, but most crucial among them are young Pierrot, tough guy Carlos, clumsy informant Regis, embedded cop Slimane (a friendly adversary) and a gypsy girlfriend named Inès. Pépé is a free man, but he's virtually imprisoned anyway. The Casbah is too volatile an area for the police to successfully raid and, much to his frustration, he knows that the only way to avoid arrest is to never leave. His shaky situation comes to a boil when he meets Gaby, a classy temptress with eyebrows like insect feelers. They have little common ground beyond a fondness for Paris but, naturally, they fall in love in an instant. Because this is a movie. Pépé begins sneaking away from Inès to pursue his true desire, but we realize that following his heart will only lead to a fatal mistake. Gabin and the claustrophobic snarl of the Casbah are what's most memorable about "Pépé le Moko." The versatile Gabin even croons an unexpected song (seemingly a pattern in '30s French movies). Another musical vignette features an aging gypsy wistfully singing along with a scratchy record she made during her prime -- it's perhaps the most touching scene. Call it an early film noir, a top example of French Poetic Realism or simply a romantic gangster picture. It's exceptionally well-made but, personally, I found myself longing for the more distinctive quirks of Jean Vigo or René Clair.
See Details