A Personal Journey with Martin Scorsese Through American Movies
(1995)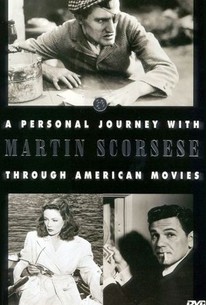 Movie Info
In 1994, the British Film Institute commissioned a set of films to mark the centenary of the movies. They would trace the history of several national cinemas, and the BFI's choice for interpreting the history of American film fell to director Martin Scorsese, a longtime champion of film history and preservation. Scorsese's approach to his subject is director-centered, as he examines the tension inherent in the struggle of an artist wishing to make a personal statement against the collaborative nature of films and the commercial pressures of the Hollywood moviemaking factory. Segments of this series are devoted to the director as storyteller (examining narrative devices in the Western, gangster film, and musical), illusionist (technical tricks), smuggler (imbedding personal messages), and iconoclast (bucking the system to make films his own way). The series is replete with telling clips, not just snippets or shots, but entire scenes which illustrate Scorsese and co-director Michael Henry Wilson's points. Other filmmakers, including John Ford, Francis Ford Coppola, Billy Wilder, and Orson Welles, are seen in archival footage or interviews created for the series, offering their own take on the art of filmmaking. Scorsese doesn't discriminate between filmmakers with glossy reputations and those who always worked on the fringe of public awareness. If anything, he goes out of his way to champion mavericks like Samuel Fuller whose "visceral cinema" never enjoyed box-office success or awards. Personal Journey was first shown on British TV, released in limited fashion to theaters in the United States, and shown here on TV as well. A tie-in book was published in 1997 by Miramax Books; it contains the entire script for the series, excellent black-and-white stills, and dialogue from some of the clips.
Critic Reviews for A Personal Journey with Martin Scorsese Through American Movies
Audience Reviews for A Personal Journey with Martin Scorsese Through American Movies
Back in 1994, Martin Scorsese and Michael Henry Wilson decided to co-write and co-direct a near 4 hour series, hosted by Scorsese, about the history of American cinema, though done through the films, genres, and directors that personally struck a chord with Marty the most. It was an ambitious idea, and the resulting film is a real treat for cinema lovers everywhere. Yeah, Marty only covers from silent filmsthrough the 1950s, with only a few entries from the 60s and 70s getting touched upon, and the genres are limited to primarily westerns, gangster films, and musicals for the most part, but this all gets made up for by Scorsese's obvious love, passion, and enthusiasm for the subject, and due ot the fact that, unlike a lot of documentaries, the clips that are shown here are often rather lengthy, and are given time to breathe, whether Scorsese talks over parts of them or not. Seriously, these clips sometimes go on for a few minutes at a time. Of course, along with this come a great many spoilers for the films he covers in depth, but if you've already seen them, then it's okay. Even though the scope and depth in the broadest sense are limited, the fine print is where this film really shines, and why it happens to be nearly 4 hours long. Divided into parts, Scorsese looks at the changes within select genres over the years, the various factors related to those genres, and the effects this all had on movies and society at large. He also looks at technical innovations, social factors, and the messages, both discreet and overt, that directors threw in to really shape their visions. It's basically a film class, taught by a real master, where you don't have to take tests or pay for textbooks. It's enjoyable and highly informative, and just listening to Scorsese ramble is a great pleasure in and of itself. If you love movies, then you really out to see this.
Chris Weber
Super Reviewer
½
Film class is in session, take notes.
Graham Jones
Super Reviewer
What a very well written and produced documentary. I loved every minute of this and it was very interesting to hear what the best director in film had to say. Their is not much to talk about his except that he kind of spoiled a couple of films I been meaning to watch. Well, that's what I get for watching a film that considers it self a journey. I also really liked the song they would play at the beginning and end credits. It was so classy and elegant. So to end this really short review I would like to say for all the cinephiles out their you have to watch this. Their is no exception.
Eduardo Tobias
Super Reviewer
A Personal Journey with Martin Scorsese Through American Movies Quotes
There are no approved quotes yet for this movie.