Phase 7
(2011)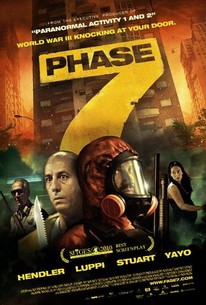 Movie Info
Coco (Hendler) has just moved to a new apartment with his wife Pipi (Stuart), who's seven months pregnant. At first, they don't seem to notice the growing chaos around them, but when authorities quarantine their building after a deadly pandemic breaks out, Coco joins forces with his off-kilter, but well-prepared and stocked next-door neighbor Horacio to defend his refrigerator and keep Pipi safe. Meanwhile, outside the building, Buenos Aires-and the world as the apartment denizens know it, is disappearing. The world is ending; got ammo? -- (C) Bloody Disgusting
Rating:
R (for strong bloody violence, and language)
Genre:
, ,
Directed By:
Written By:
In Theaters:
On DVD:
Runtime:
Studio:
News & Interviews for Phase 7
Critic Reviews for Phase 7
Audience Reviews for Phase 7
He seems nice but too weird to handle men's business. An outbreak of some sort occurs and an apartment complex is quarantined. The individuals within the complex are all fairly segregated and not particularly friendly. All the families/groups in the complex have different needs, and some families are more reluctant to share than others. What transpire are several battles and one family struggles to survive. "Don't be ridiculous, we don't have to tell them anything." Nicolas Goldbart, director of episodes of Jorge, delivers Phase 7 in his major motion picture debut. The storyline for this picture is interesting and fun to watch unfold but not particularly unique. The action scenes are good and some are done with surprisingly good delivery. The acting is nothing special and the cast includes Daniel Hendler, Jazmin Stuart, Frederico Luppi, and Yayo Guridi. "Come here, astronaut." Phase 7 is a movie I came across on Netflix while scrolling through their horror movies. The premise sounded interesting and I was hoping it would be as good as Right at Your Door, but I would say this was a step below that picture. This is worth seeing if you're a fan of Rec or Right at your Door (quarantine movies), but it is far from a classic or must see. "Please, you are a pussy. You are a city creature, that's all." Grade: C+
Kevin Robbins
½
This a surprising little movie here, it is far more sci-fi than it is a horror movie. Of course, at first I thought this would be simply a REC ripoff. The concept is exactly the same, a quarantined apartment complex that is, likely, being ravaged by a deadly virus. The difference is, this virus doesn't turn people into zombies, it simply just kills them. The difference is in the execution of the story, as this movie focuses on a more contained struggle between the tenants and their growing mistrust of each other. I also liked the fact that the movie was far funnier than I was expecting, with Horacio delivering some hilarious insults. The problem is that the movie really starts to drag more than halfway through the flick. The biggest offender would be the scene where Coco and Horacio are going after Zanutto, this scene simply goes on too long. Though it does leads to a really cool shootout sequence, after it the movie just sort comes to a halt and it doesn't ever really come back from it. I thought the score to the film was really cool as well, as it has an old-school feel with a modern twist. I thought the film was pretty good for the most part, as mentioned the movie drags so much that it downgrades the rating for me. It has some clever moments, but it is largely an average movie overall. Wouldn't give it a glowing recommendation, but you could do much worse.
Jesse Ortega
Super Reviewer
½
*** out of **** A Buenos Aires apartment complex is put under an extensive quarantine after chaos and destruction caused by a newly discovered pandemic explodes just outside of the building. It is assumed that all those who were ill have already been removed from the premises, and now all anyone has is themselves and their neighbors. Among these people are Coco (Daniel Hendler) and his 7-months pregnant wife Pipi (Jazmin Stuart), who have just returned from a long day of grumpy grocery shopping when bright lights outside disturb the peace. For a while, the couple is surprisingly calm given the circumstances, but then the neighbors start getting a little restless, and Coco - being the man of the house (erm, apartment) - must do what he can to decrease the risk of infection against himself and Pipi alike. Perhaps the only other person in the building that Coco can really trust is his friend Horacio (Yayo Guridi), who suspects that two of their shared neighbors, and whoever else they recruit, are thinking of doing dangerous and irresponsible things. There's also an older man named Zanutto (Frederico Luppi) who might have been on Coco's side had he not been so passive earlier on about supplying his neighbor with some blades for shaving and an outlet. Now, Zanutto is armed with guns and booby traps; currently crazy to do just about anything and at any time. The apartment stands tall from the outside but is continually falling apart on the inside. Call me crazy or disillusioned in my perception of this, but I saw the entire thing as a satire of how human beings might react in the event of a worldwide pandemic. If this is indeed the point that Nicolas Goldbart is trying to make with "Phase 7", then it's easily not the most original film out there; as such films have been done before and are always trying to be done (a more "realistic" take on a similar premise would be Steven Soderbergh's "Contagion"). But I'll take it as it is and say that from a satirical stand-point, it's fairly funny and accurate without feeling too blown-up in its humor. There's also a darker undertone to it and that essentially works too; the film may appear to be taking a turn for the action route rather than remaining the slow-burn thriller full of energy that it originally appeared to be, but I assure you, it's always on the same track. The use of colors is particularly emotive. The film is nicely shot and creative in how it looks, even if looks may not always serve this kind of story well. In one very tense scene taking place in the dark garage of the complex, Zanutto faces off against Coco and Horacio; occasionally the light illuminates something with nightmarish greens. Like the rest of the film, it's not the kind of creative lighting that will break new ground; but it reminded me of a lot of the horror movies that I like and made me wonder why people don't go this over-the-top with color schemes and cinematography these days as they did, say, back in the 70's when the Italians were taking the world by storm. "Phase 7" is really damn good and intelligent until the finale. In a typical sci-fi send-off, Goldbart seems to have run out of the ideas and creativity that he displayed for the other 90 or so minutes. The ending is so utterly disappointing that it almost provokes the viewer to want to watch the film again, if only to see it through and pick apart the flaws. But the ending aside, I still think the film is pretty good. No doubt, I might feel a bit differently if I watch it again; but hell, the flaws are essentially nothing in comparison to the praise. This is a smart film of cleverly developed attributes; sexy and stylish, not necessarily dependent on characters and strong drama but seldom disregarding the two. I admire any film that can take something as familiar as an epidemic medical thriller premise and make it thoroughly entertaining.
Ryan Marshall
Super Reviewer
Phase 7 Quotes
There are no approved quotes yet for this movie.