Philosophy of a Knife
(2008)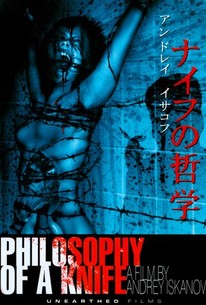 AUDIENCE SCORE
Critic Consensus: No consensus yet.
Philosophy of a Knife Photos
Movie Info
Nails and Visions of Suffering director Andrey Iskanov offers a complete history of the clandestine biological and chemical warfare research and development unit of the Imperial Japanese Army known as Unit 731 in this hybrid documentary/narrative drama that isn't for the faint of heart. From its inception in the 1930s through its demise in 1945, Unit 731 was responsible for some of the most reprehensible war atrocities ever committed. Former doctor and military translator Anatoly Protasov bore witness to many of these transgressions, and in this film he reveals previously unknown details that are sure to shock and disturb. It's those memories that form the foundation of this story concerning a young Japanese nurse who watches in horror as helpless prisoners are butchered and forced to serve as subjects in a series of sickening medical experiments, and a naïve Japanese officer attempting to reconcile his desire to serve his country with his growing sympathy for an imprisoned Russian girl. As his discomfort with the experiments grows, however, the young officer is compelled to use his patients as human guinea pigs in a series of shocking tests that revealed mankind's frightening capacity for barbarity.
Rating:
NR
Genre:
, , ,
Directed By:
Written By:
On DVD:
Runtime:
Studio:
Unearthed Films
Cast
Critic Reviews for Philosophy of a Knife
There are no critic reviews yet for Philosophy of a Knife. Keep checking Rotten Tomatoes for updates!
Audience Reviews for Philosophy of a Knife
Horribly boring. There is about 30 minutes of actual documentary, all of the rest is crappy added footage that rarely makes any sense.
Troy Kleasner
"Philosophy Of a Knife" - One Long, Dull Blade Well its been a long while since I've written a review and, jeez what a way to come back.... Full disclosure: I didn't finish this film. Only once have I not finished a film (oddly, "Batman and Robin"). Mostly cause its 4 hours long and boring as hell. First of all this movie is about Unit 731, where the Japanese Empire conducted atrocious experiments on over 10,000 people. Everything from microbiological experiments to outright vivisection. There is no denying that these crimes against humanity (and reason) are worthy of thoughtful examination and debate. This movie doesn't even get into the parking lot of the ballpark. Anyhoo, this movie is what I call a WDP ("Written/Directed/Produced). That makes it the Holy Trinity of Vanity Projects and - it certainly achieves that goal. Andrey Iskanov manages to produce 4 hours of utter garbage. The movie has an excessive lengths of shots of snow falling on a building (allegedly the Unit 731 in question). LOTS of them. There are also scenes of an interview with someone who worked there (allegedly, again). And off-camera narration of a Japanese nurse. I have no idea if these are genuine or not - I didn't make it to the credits to find out. In Iskanov's version however, the Unit is apparently made up of 6 or 7 medical staff, a couple of soldiers, and 6 prisoners. It makes no attempt to establish the scope of the atrocities. Nor is there any attempt to establish any characterization on either the staff or - worse, yet - the prisoners. There is no dialogue in the movie other than the interview, the Japanese nurse narration, and the chief narrator. As for the 'gore' there was plenty but to say it was over the top would be an understatement. Even during the so-called "teeth removing scene" there is enough 'blood' to have had the victim pass out. The other scenes go for maximum gore and guts which is almost 'high school' level at times. The one scene that stands out is a masked person apparently chopping up fake bodies while a Japanese woman plays a mouth harp in full medical regalia - that should give you an idea of the level of silliness I had to endure. And before I forget, the prisoners are all young Russian women and men. Which is all well and good except that 95% of all the prisoners actually used were Chinese and Korean - D'OH! And as for the soundtrack? Trent Reznor called, he'd like his sound back. Ok lets clean this mess up: FUN RATING: ZERO. LOL - you're sh*tting me, right?? This was a waste of time and raw materials. I wouldn't recommend this as a coaster since someone is bound to attempt to play it. INTEREST RATING: ONE (10). Yeah, believe it or not I can't even give this a ZERO in that department. SOLELY because the atrocities of 731 are all too real and while this movie doesn't even come close to describing the scope - it at least introduces a topic not many people are aware (or want to be aware of). TOTAL RATING: 1 Damn, I need a drink after this waste of time.
Unca Chaoz
Do not watch this if you're looking for gore of for education. On the other hand if you ARE looking for many, many black and white shots of trees and snow then this film is for you.
Molly Comperatore
Philosophy of a Knife Quotes
There are no approved quotes yet for this movie.