Pirates of the Caribbean: Dead Men Tell No Tales
(2017)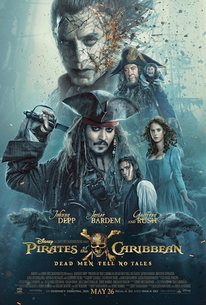 TOMATOMETER
AUDIENCE SCORE
Critic Consensus: Pirates of the Caribbean: Dead Men Tell No Tales proves that neither a change in directors nor an undead Javier Bardem is enough to drain this sinking franchise's murky bilge.
Pirates of the Caribbean: Dead Men Tell No Tales Videos
Pirates of the Caribbean: Dead Men Tell No Tales Photos
Movie Info
Johnny Depp returns to the big screen as the iconic, swashbuckling anti-hero Jack Sparrow in the all-new "Pirates of the Caribbean: Dead Men Tell No Tales." The rip-roaring adventure finds down-on-his-luck Captain Jack feeling the winds of ill-fortune blowing strongly his way when deadly ghost sailors, led by the terrifying Captain Salazar (Javier Bardem), escape from the Devil's Triangle bent on killing every pirate at sea-notably Jack. Jack's only hope of survival lies in the legendary Trident of Poseidon, but to find it he must forge an uneasy alliance with Carina Smyth (Kaya Scodelario), a brilliant and beautiful astronomer, and Henry (Brenton Thwaites), a headstrong young sailor in the Royal Navy. At the helm of the Dying Gull, his pitifully small and shabby ship, Captain Jack seeks not only to reverse his recent spate of ill fortune, but to save his very life from the most formidable and malicious foe he has ever faced.
News & Interviews for Pirates of the Caribbean: Dead Men Tell No Tales
Critic Reviews for Pirates of the Caribbean: Dead Men Tell No Tales
Audience Reviews for Pirates of the Caribbean: Dead Men Tell No Tales
Better than I thought it would be. A fun "comical" romp. They get more and more out outrageous. One complaint I had was the ending was just too drawn out. Just end it. You had a great two first acts and a nice twist at the end. We don't need to linger around for another 20 minutes.
Surely an improvement over PotC4, the 5th installment of the franchise tries to recreate the fun and extravagant set pieces of the original trilogy and pays respect to the original lore. Unfortunately recreating the sense of grandeur that was the trilogy epic gets lost in this bloated imitation. An underwhelming portrayal of Jack's origin story, his so-called greatest fear (Cpt. Salazar) and wrapping up the Turner/Swan epic all deserved so much better. The narrative carries itself like another disconnected side-story akin to "On Stranger Tides" but this time appears to loosely maintain relevance by plugging in cheap references to the past. Cheap, careless references and impromptu reveals that create plotholes and forced drama simply to justify newcomers Henry & Carina, whom on there own are about as interesting as another Pirate curse, skeleton, monster, thing. PotC5 may be a step back in the right direction for the franchise but still ends up being a forgery undeserving of the name.
Drake Tsui
Super Reviewer
In my personal opinion, Pirates of the Caribbean: On Stranger Tides was a very boring film that didn't need to see the light of day. When it was announced that a fifth film would be on its way, there was absolutely no sense of joy lurking through me, as I thought the franchise had been long past its stay. After my viewing of this newest instalment, Pirates of the Caribbean: Dead Men Tell No Tales, I can whole-heartedly say that there's a reason for this film to exist. I'm not just saying that for the sake of having the franchise to have a better ending than the previous film and I'm definitely not going to let the conclusion of this film cloud my judgement on what the overall film presents, but this is a decent entry in the franchise that has hit some very choppy waters over the years. As a conclusion to this franchise, here is why this film does its job well. While still remaining connected through character relations, this is a very isolated story from the first four films. That being said, the fourth instalment did just that, but chose to leave out further connection to the other films. This film has a much more personal story, as Jack Sparrow has to face his demons from the past. Flashing back to show that he has a connection to the death and revenge plot of Captain Salazar, this only further deepens the plot. The core premise follows a few new faces on the hunt for both Jack Sparrow and Poseidon's trident. Learning new things about each and every character along the way, this is a picture that tries to dazzle and wraps things up all at once, and it succeeds in just that, for the most part. The visuals throughout this franchise have always been magnificent to look at. The practical sets of the ships and the mixture of CGI/practical effects was always impressive. Although noticeable at times for various reasons, Pirates of the Caribbean: Dead Men Tell No Tales is absolutely no exception to that notion. From the visual effects on Captain Salazar (which were definitely questionable throughout the trailers) are far more rich in 3D on the big screen, and the action sequences are all top-notch as usual. There is quite a bit of action here, keeping the pace from feeling sluggish. Being the shortest entry in the franchise surely helped, but I never truly found myself bored. I feel like I've been praising this film quite a bit, but the first half is extremely sloppy to say the least. For the entire first act of this film, I felt as though there was far too much going on. Too many new characters were being set up, along with a villain plot, as well as getting to know what Jack Sparrow and his crew have been up to this entire time. There was so much of a re-introduction to everything that the film suffered in terms of storytelling. The premise of this film itself is solid, but the execution is all over the place and there are far too many times when it feels like it just wants to wrap up loose ends from the previous instalments. In order to make fans happy, there are quite a few cameos and a conclusion that will surely satisfy the die-hard fans. I quite enjoyed the send-off this film receives and for that reason alone I will be giving it a positive grade. In the end, when I look back on the franchise, this instalment will still not be able to be talked as highly about as the original, but I will forever remember the climax for being possibly the best in the entire franchise. There is something very intriguing and unique about the aspects introduced in the third act and the conclusion fits the tone of the original movie very well. Sadly, this film is bogged down with too many ties to previous stories or connections to previous films. There were a few times when I wished this film was a little more on its own than than what the final product presented me, but I was satisfied enough to give it a recommendation. This won't win anyone over, but if you are a fan of the first couple and agree that it has gone downhill since then, I believe you will enjoy the final act of this movie very much. For a franchise that seemed to have had its last day over two films ago, this was a pretty enjoyable sequel, which is a lot more than I thought I'd be saying.
Pirates of the Caribbean: Dead Men Tell No Tales Quotes
There are no approved quotes yet for this movie.
Discussion Forum
Discuss Pirates of the Caribbean: Dead Men Tell No Tales on our Movie forum!