Plan 9 from Outer Space
(1959)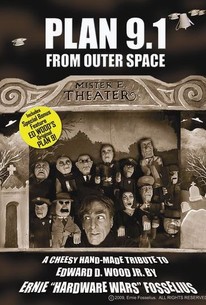 AUDIENCE SCORE
Critic Consensus: The epitome of so-bad-it's-good cinema, Plan 9 From Outer Space is an unintentionally hilarious sci-fi "thriller" from anti-genius Ed Wood that is justly celebrated for its staggering ineptitude.
Plan 9 from Outer Space Photos
Movie Info
Based on a true tale of horror from a noted American television psychic, this low-budget sci-fi epic tells the chilling tale of space aliens who come to Earth in flying saucers and raise the dead in hopes of overtaking the planet. The military knows about the invasion and struggles to keep the alien doings a secret. Fortunately for the rest of humanity a courageous airline pilot is able to team up with a detective and stop them from enacting the dreaded "Plan 9." Hailed, with good reason, as one of the worst movies ever to disgrace the screen, Ed Wood's Plan 9 from Outer Space, has become a camp classic with its dreadful production values (paper plate space ships and obviously fake cemetery grass are highlights), and cavalier attitudes to minor things such as editing and continuity. Though Wood was seriously trying to frighten his audience, the film is so bad that it cannot help but promote laughter. It does contain the last footage of Bela Lugosi, who died well before Wood made the film. Having nothing really to do with the plot, Wood tacked in two minutes worth of silent footage of the aging Lugosi and gave him top billing afterward.
News & Interviews for Plan 9 from Outer Space
Critic Reviews for Plan 9 from Outer Space
Audience Reviews for Plan 9 from Outer Space
Ed Wood's most infamous creation and a definite prove of how outrageously inept he was as a filmmaker. Featuring a lot of laughable acting and dialogue, ridiculous special effects and a disastrous notion of space and time, this is a masterpiece of sheer awfulness.
Carlos Magalhães
Super Reviewer
I have seen worse movies in my life, hell, I've seen worse movies this very month, and yet this particular film from the infamous Ed Wood seems to be the seminal in bad filmmaking. Because of Mr. Wood's earnest approach to his source material, his inability to make films without corny dialogue, and his decision to only have one take per scene; make many of his films comically bad. It's sad that the untainted enthusiasm of Mr. Wood is often relegated to mirth, but at least his films are beloved for their camp and corniness, more than can be said for other aspiring filmmakers. This isn't even the worst of his films, but it is the most absurd, as it bridges the genres of zombie horror, sci-fi, and apocalypse film without any seamless transitions. He uses people who have never acted before, homemade sets, and doesn't apologize for the lack of production value. Still, I found the sentiment expressed by the aliens as productive, the sole message of the film positive as it says to do better for the world than the ways humans have before. At least there's that care for human dignity, and that's what makes this film great, even if it's technically bad.
Spencer S.
Super Reviewer
Ok, so this film really isn't quite "The Worst Film of All-Time", but it is quite horrible. Part of what gives it redeeming value, though is the fact that it IS a bad movie- mainly due to the ridiculous writing, cheesy dialogue, and the numerous way too hard not to miss errors and goofs. This is a good film to watch for educational purposes especially for up and coming film makers as a way to see what not to do when making a film. Plus, spotting all the errors is fun in and of itself. This is delightfully cheesy and camp schlock at its best.
Chris Weber
Super Reviewer
Plan 9 from Outer Space Quotes
| | |
| --- | --- |
| General: | We'll investigate but move cautiously |
| General: | We'll investigate but move cautiously. |
| | |
| --- | --- |
| Jeff Trent: | I'm muzzled by army brass! |
| | |
| --- | --- |
| Lt. Harper: | But one thing's sure. Inspector Clay is dead, murdered, and somebody's responsible. |
| | |
| --- | --- |
| Captain: | Visits? That would indicate visitors |