Politiki Kouzina (A Touch of Spice)
(2003)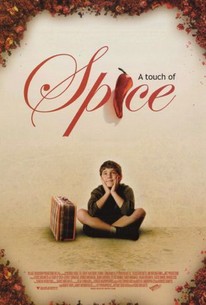 Politiki Kouzina (A Touch of Spice) Photos
Movie Info
The historical conflicts between Greece and Turkey and the lives of those caught in between are explored in Tassos Boulmetis' debut feature, the autobiographical drama A Touch of Spice. A box-office smash in Greece, the film won the Audience Award at the 2003 Thessaloniki Film Festival, and had its U.S. premiere in competition at the 2004 Tribeca Film Festival. After a brief prologue, which introduces its astronomer-chef protagonist, Fanis (Georges Corraface of Escape From L.A.), who lives in Greece and is preparing for a visit from his grandfather, Vassilis (Tassos Bandis), the film flashes back to his boyhood 35 years earlier in Istanbul, where Vassilis, who owns a grocery store, teaches Fanis about the connection of various spices to life and to the universe. The precocious Fanis makes a deal with a girl he likes, Saime (played as an adult by Basak Köklükaya), that he'll cook for her if she dances for him. Eventually, political turmoil intrudes on the family's happiness, and Fanis' father, Savas (Ieroklis Michailidis), a Greek, is forced to take his wife (Renia Louizidou) and son out of the country. They settle in Athens, but never get over the trauma of being deported. In addition to missing his grandfather, Fanis never gets over his connection to Saime. His grandfather repeatedly promises to visit, and to bring the girl along, but always has an excuse for canceling the trip at the last minute. Meanwhile, Fanis grows up despondent and depressed. He quickly develops a great talent for cooking, which his parents strongly discourage. It's not until he's in his forties that Fanis makes the voyage back to Istanbul to resolve his relationship with the two most important people in his life.
Critic Reviews for Politiki Kouzina (A Touch of Spice)
Audience Reviews for Politiki Kouzina (A Touch of Spice)
½
When I read some of the reviews written by the critics I have to say that NONE of them watched the movie to the end or they need a lesson in history... because there is no other logical explanation for bad review! This movie was made in 2003, not 2006 as stated on this site, and in it amazing Greek director Tassos Boulmetis is achieving carefully constructed emotional impact with a lot of sweet touches and unique Balkan sense of humor. The film is constructed like a meal; the segments are labeled "appetizer," "main course" and "dessert"... The Balkan society has the food related to everything: marriage, astronomy, even politics... and the director managed to recognize and transfer that recognition to the audience! (Quote: "If a diplomat smells of garlic, trouble is stirring.") Slow pace at the end is not tiresome, it adds up to the whole feeling of expectation... and I have to say, for me this is one of the best Greek movies ever (it is the most successful at the Greek Box Office)! Please, get it on a DVD and enjoy it!
Politiki Kouzina (A Touch of Spice) Quotes
There are no approved quotes yet for this movie.