Prete-moi ta main (I Do: How to Get Married and Stay Single)
(2006)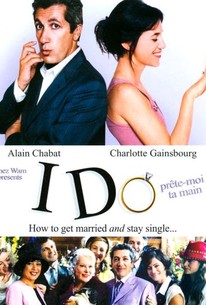 Movie Info
Life is easy for 43-year-old Luis, a happy single guy, fulfilled in his job of star nose with a perfume creation company, cosseted by his mother and five sisters. It could have lasted for a whole life, but fed up with mollycoddling and helping him, his mother and sisters decide it's time he got married, and the sooner the better!Surrounded and hounded by his family who think only of marrying him off, he comes up with an infallible plan: he'll find the perfect woman who'll pretend to be his fiancee and then, on the day of the wedding, will cruelly dump him. After that, for certain no one will dare even mention the word 'marriage' in front of him. But how do you go about finding such a gem? Luis sees only one solution: hire her! And it just so happens that Emma, his best friend and colleague's sister, has recently arrived in Paris and is looking for a job. The plan is underway. At the end of it lies Luis' freedom!
Rating:
NR
Genre:
Directed By:
Written By:
On DVD:
Runtime:
Studio:
Critic Reviews for Prete-moi ta main (I Do: How to Get Married and Stay Single)
Audience Reviews for Prete-moi ta main (I Do: How to Get Married and Stay Single)
½
"Prête-moi ta main" is such a sweet and funny French romantic comedy. The on-screen chemistry between Alain Chabat and Charlotte Gainsbourg is rather odd, but it does not distract the audience from the enjoyment of the story. They are both such excellent actors!
Thomas Andrikus
Cute, funny, an well-executed. It is predictable and the story has been done plenty of times, but the execution makes it worth watching.
Mad Martigan
The first half of this was entirely predictable and almost lost this viewer as it strictly followed the script. The second half proved much more entertaining as the pseudo-couple, Luis (Alain Chabat) and Emma (Charlotte Gainsbourg) moved on to Plan B after Plan A backfired. We always knew how it was going to end up, but the journey proved to at last move in some interesting directions after the failure of the initial plan. There was an interesting dynamic playing out with the women proving to be stronger willed than the men. The subplot regarding Emma's desire to adopt was handled well, and the social worker brought a little added humor to the plot with her constant confusion over Emma's status. If one can make it through the first half, there is a payoff at the end, but this could have been improved with a few more twists early on. Two stars for the first half, and four for the second, average out to a three star bit of french fluff.
Mark Abell
Super Reviewer
Prete-moi ta main (I Do: How to Get Married and Stay Single) Quotes
There are no approved quotes yet for this movie.