Princess Raccoon (Operetta tanuki goten)
(2005)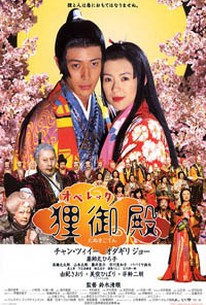 AUDIENCE SCORE
Critic Consensus: No consensus yet.
Princess Raccoon (Operetta tanuki goten) Photos
Movie Info
No man should love a 'tanuki'. Even less should this enchanted forest creature ever love a man. Princess Tanuki was invited to Raccoon Palace from the land of Cathay. Amechiyo is a Prince whose father Azuchi Momoyama, Lord of Castle Grace, seeks his life. It is their fate to fall in love at first sight, but one obstacle after another keeps them apart. Only the holy Kairasu Mountain knows the course their love will take.
Rating:
NR
Genre:
,
Directed By:
In Theaters:
On DVD:
Runtime:
Cast
Critic Reviews for Princess Raccoon (Operetta tanuki goten)
All Critics (3) | Fresh (2) | Rotten (1)

Hollywood Reporter
Top Critic
Audience Reviews for Princess Raccoon (Operetta tanuki goten)
This was my first exposure to the films of Seijun Suzuki. I found it inventive, colorful, and positively baffling mishmash of elements.
Lee Mayo
Very artsy, pretty cute and an enjoyable movie overall. An awesome source of inspiration for design. Consume with ice cream (just kidding, kind of).
Mary Wang
SCREENED AT THE 2006 SAN FRANCISCO INTERNATIONAL FILM FESTIVAL: At 82, most filmmakers, major and minor, have either retired or shuffled off this mortal coil. Not so (or rather not yet) for Japanese cult director Seijun Suzuki ([i]Tokyo Drifter[/i], [i]Fighting Elegy[/i], [i]Branded to Kill[/i]). Suzuki leaves no anachronism unturned or unused in what might be the last film of a career spanning six decades. Suzuki has directed more than 40 films, but he's primarily known in the West for a string of yakuza thrillers made in the mid- to late-60s. With [i]Princess Raccoon[/i] ("Operetta tanuki goten"), a remake/reimagining of a Japanese operetta that dates back to Japan's Golden Era of filmmaking, Suzuki has put aside the typical concerns of a man near the end of his life (e.g., impending mortality, changing moral codes and values), and indulged, or rather self-indulged in a bizarrely original, if no less, flawed, romantic musical/fairy tale. [i]Princess Raccoon[/i] is set in an almost recognizable past, the late 16th century, when Westerners made their first, short-lived contact with Japan. As [i]Princess Raccoon[/i] opens, the Old Maid Virgin (Saori Yuki) informs the Lord of Castle Grace, Azuchi Momoyama (Mikijiro Hira), of a change in his personal fortunes. As vain as he is powerful, Momoyama learns that his son, Prince Amechiyo (Jô Odagiri), will soon take his place as the most handsome man (or woman) in the realm. Understandably unhappy with the prophecy, Momoyama has his son drugged and abandoned on Kairasu Mountain, a holy mountain that also happens to be home to the "tanuki," shapeshifting raccoon-like forest spirits. Abandoned on the sacred mountain, Prince Amechiyo awakens to the sight of Tanukihime (Ziyi Zhang), a/k/a Princess Raccoon, in human form. Prince Amechiyo and Princess Raccoon fall instantly in love. Unfortunately, the laws of gods and men prohibit their union. Lord Momoyama learns that Prince Amechiyo has survived. Momoyama sends the Old Maid Virgin to find the prince. Princess Raccoon's court lady, Hagi (Hiroko Yakushimaru), also objects to the union between them, helping to capture the prince and imprisoning him in the palace. With the lines of conflict loosely drawn, [i]Princess Raccoon[/i] turns on whether Princess Raccoon and Prince Amechiyo's impossible love will overcome all obstacles, from the mundane and murderous to the magical and the metaphysical. Whether they do or not, however, is the thinnest of storylines to hang a two-hour, camp musical on to, but Suzuki certainly does his best to keep viewers entertained or distracted through colorful sets, lavish costumes, and dance numbers inspired by Noh, Kabuki, rap, and rock music styles. Performances, however, are usually limited to static singing sans dance moves during the musical numbers, which adds an overall unenergetic, repetitive feel. Amechiyo wears a large, silver cross around his neck, European diplomats whisper conspiratorially in their native languages at Momoyama's court, Momoyama's sorceress employs the Virgin Mary for assistance, and Momoyama lingers over an oversized Renaissance painting (presumably a gift from a far away, European prince or king). Consciously or not, [i]Princess Raccoon[/i] seems to draw its (Western) references [i]Snow White[/i], [i]Sleeping Beauty[/i], [i]Wizard of Oz[/i], and [i]Alice in Wonderland[/i]. Either that or Joseph Campbell was right about universal cultural myths and stories (he probably was). Technicolor dreamscape, musical, comedy, pop-art fantasy. [i]Princess Raccoon[/i] is all that and more (or less, depending on your perspective and your tolerance for campy excess). Suzuki employs a variety of music styles, from rap to pop to modern rock, all without a change in his performers clothing (they stay firmly rooted in an imagined, feudal past of bright colors and textured robes). It's all richly stylized and designed, but to what end and purpose? Suzuki was obviously less interested in looking back with nostalgia, criticizing contemporary society for falling short of the values and expectations of his generation, or even in crafting an elegiac meditation on mortality. The closest [i]Princess Raccoon[/i] comes to social commentary is the contrast drawn between the tanuki and the humans, with the tanuki relatively content to live in peace and prosperity (they refer to the lives at the palace as paradise). In one musical interlude, Hagi sings about destructive, greedy humans that pose a threat to the tanukis. To see more in [i]Princess Raccoon's[/i] simple storyline of ill-fated love, would be a stretch. Then again, Suzuki probably didn't want to go deeper. [i]Princess Raccoon[/i] is almost certainly a celebration of Suzuki's youthful memories of Japanese film, music, and theater (mixed incongruously, superficially with modern art forms). It's also overlong and self-indulgent.
Mel Valentin
Discussion Forum
Discuss Princess Raccoon (Operetta tanuki goten) on our Movie forum!
News & Features