Private
(2005)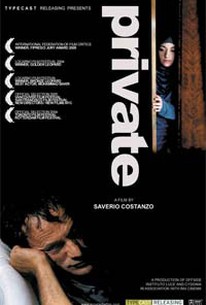 TOMATOMETER
AUDIENCE SCORE
Critic Consensus: Italian director Saverio Costanzo delivers a gritty and intimate drama about how the Israeli-Palestinian conflict affects a Palestinian family and the Israeli soldiers occupying their home.
Movie Info
Mohammad, his wife and their five children live in a large, isolated house located halfway between a Palestinian village and an Israeli settlement. The house, in the crossfire of the two sides, is a strategic lookout point that the Israeli army decides to seize, confining the family to a few downstairs rooms in daytime and a single room at night. Mohammad refuses to leave his home and, reinforced by his principles against violence, decides to find a way to keep his family together in the house until the Israeli soldiers move on.
Critic Reviews for Private
Audience Reviews for Private
[font=Century Gothic]In "Private" a Palestinian family is not only living in the battlefield of the occupied West Bank but now they must face the additional indignity of having the Israeli army occupy their house. The army gets the second floor(under no circumstances are the family to venture there) and the family must stay downstairs. After dark, they are confined to the living room. For the father, Mohammed, a learned, dignified man, being a refugee would be worse and he insists on staying.[/font] [font=Century Gothic][/font] [font=Century Gothic]"Private" is a tense drama with realistic situations. The film boils the whole Arab-Israeli conflict down to a microcosm of a single house being occupied. Through the character of the father, other ways are suggested of fighting the Israeli army than violence. And the individual soldiers are not shown as being the villains.[/font] [font=Century Gothic][/font] [font=Century Gothic][/font] [font=Georgia][color=navy]In "Down to the Bone", Irene(Vera Farmiga) is a mother to two young sons and wife to a construction worker. She works as a cashier at a supermarket in upstate New York. She is also addicted to cocaine. And she has been using since high school. After one particularly embarrassing attempt to buy drugs fails, she realizes she needs help and enters rehab.[/color][/font] [font=Georgia][color=#000080][/color][/font] [font=Georgia][color=#000080]"Down to the Bone" covers some familiar ground but does so in a totally unglamorous way. The movie does not offer any easy answers or solutions. The movie is anchored by a very strong performance by Vera Farmiga.[/color][/font]
Private Quotes
There are no approved quotes yet for this movie.