The Program
(1993)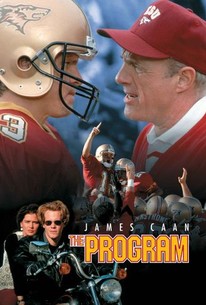 Movie Info
Eastern State University isn't particularly notable for anything except its football program. Lately, even that hasn't been doing too well, and the athletic staff led by Coach Winters (James Caan) are under considerable pressure by the administration and alumni to bring in a winning season. To do that, he has to recruit some able, promising young players out of high school. It's not too surprising to learn that he will do almost anything to get these kids, and its even less surprising that, as long as they keep producing on the field, he and the college will overlook almost any obnoxious behavior the boys can perpetrate to the limit of their ability.
Rating:
R
Genre:
,
Directed By:
Written By:
In Theaters:
On DVD:
Runtime:
Studio:
Buena Vista
Critic Reviews for The Program
Audience Reviews for The Program
Here's to a new season. A college football program has gone a few years without making a bowl game and the pressure is coming down on the coach. We follow the quarterback, star running back recruit, and a defensive player who needs steroids to crack the starting line-up deal with the struggles of meeting program expectations versus real life personal struggles. Can the players block out their personal struggles to save the coaches job? "Fuck you, dough boy, I can read. You see that shoe, it says Adidas." "I taught him that." David S. Ward, director of Major League I & II, King Ralph, Down Periscope, and Cannery Row, delivers The Program. The storyline for this picture is very entertaining and fairly well told. There were some rigid performances and scenes that could have been better told, but the story was worth following. The acting was just okay and the cast includes James Caan, Halle Berry, Craig Sheffer, Omar Epps, Kristy Swanson, and Andrew Bryniarski. "Let's put the women and children to bed and go looking for fucking dinner." The Program is a movie a lot of us were exciting to see as kids when it first came out. We all would get together and watch this and look forward to our crazy youths in front of us and the lifestyle that was portrayed in this movie. This was amazing then and just above average now watching it as an adult. This is worth watching once but needed a better cast and execution to become a classic. "If you don't come I'm never going to ask you again." Grade: C+
Kevin Robbins
½
A solid sports drama that touches on the pressures of college football. It had a more realistic nature than your typical feel-good football movie. I liked it. (First and only viewing - 1/21/2016)
Adam R
Great flick. Some cliches, but a lot of raw and dark turns that give this football movie a unique feel.
Mad Martigan