Protocols of Zion
(2005)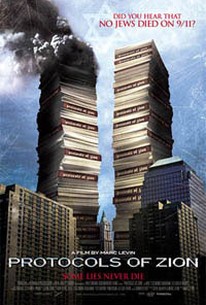 Movie Info
Near the dawn of the 20th century, underlings of Czar Nicholas II created a book called The Protocols of the Elders of Zion, which purported to be the outline of a master plan created by powerful Jews determined to rule the world. First published in 1903, the essay was a hoax (and was revealed as such for the first time in 1921 by the London Times), but that hasn't prevented it from having a long and troubling life as a widely distributed cornerstone of anti-Semitic hate literature; it's still in print around the world, and was adapted for Egyptian television in the new millennium. When filmmaker Marc Levin was confronted with another widely disseminated bit of anti-Jewish propaganda (the false assertion that no Jews died in the World Trade Center attacks of September 11, 2001), he developed a new curiosity about the Protocols and other "factual" sources of anti-Semitic hatred, and set out to find out more about anti-Jewish propaganda. The result was Protocols of Zion, a documentary which offers a surprising (and surprisingly witty) look at figures from the hate movement in America in elsewhere, ranging from leader of the neo-Nazi National Alliance (who also sells Aryan Wear footwear) to an anti-Semitic media analyst who announces that Rupert Murdoch is actually a Jew. The film also examines Henry Ford's well-documented hatred of Jews, anti-Semitism among radical African-Americans, and the memories of Levin's father, a self-described "All-American Jew."
Critic Reviews for Protocols of Zion
Audience Reviews for Protocols of Zion
½
Movie about the different opinions, emotions, and perspectives of Jews, Christians, Arabs, and the National Alliance after the events of 9/11. - Basically, the movie says that "Hate Breeds Hate." Marc Levin: "What about this rumor that Hitler himself had Jewish blood?..." Shaun Walker (National Alliance): "... ... See I think that that's a Jewish mindset that can even grasp that concept because, to me, if you're part Jewish than why do you want to kill off the Jewish people?" M.L.: "Because you want to kill it in yourself." S.H.:"Well, ugh, Hitler, I don't see himself as suicidal in the slightest, I thought he-" M.L.: "He commited suicide."
Nikolaj Zbikowski
½
Interesting but disappointing. Marc Levin takes the fascinating subject of anti-Semitism and conducts some explorations into potentially loaded territory (interviews with neo-Nazis, street thugs, Abe Foxman of the Anti-Defamation League, and such) in order to ask and answer the big questions about it. Unfortunately, he doesn't dig deep enough. He conducts some nice interviews and gets some interesting opinions and notable quotations (e.g. the white supremacist who says he doesn't consider Hitler to have been suicidal), but he doesn't really go anywhere beyond scratching the surface. He goes for breadth rather than choosing to explore the depths, which makes this merely a thought-provoking starting point for discussion rather than an innovative film.
Harry E
½
Didn't make it all the way through. Marc Levin's vignette/survey approach to ongoing antisemitism and the continued popularity of the Elders of Zion book is kind of wearing on the viewer, and offer some good moments, but really seemed to run out of steam early.
Justin Remer
Protocols of Zion Quotes
There are no approved quotes yet for this movie.
Discussion Forum
Discuss Protocols of Zion on our Movie forum!