Ringu (Ring)
(1998)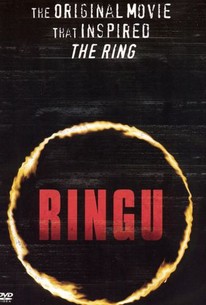 Movie Info
In this psychological horror story from Japan, a legend circulates among teenagers that if one watches a certain video at a certain time of the night, the telephone will ring right afterward, and one week later, you will die. When Masami (Hitomi Sato) tells her friend Imako this story, she scoffs -- but a week later, Imako dies. Imako's aunt, a television journalist named Reiko (Nanako Matsushima), hears that not long before she died, Imako was watching a strange video with her friends -- all of whom have turned up dead. Reiko tracks down a copy of the video, and as she watches its strange, spectral images, the telephone begins to ring....The next morning, Reiko begins a desperate search to solve the mystery of the video, convinced she has only seven days to live; assisting her is Ryuji (Hiroyuki Sanada), a mathematics expert and her former husband. Ringu was a box-office success in its native Japan, and a surprise blockbuster in Hong Kong, where it became the biggest grossing film of the first half of 1999. ~ Mark Deming, Rovi
News & Interviews for Ringu (Ring)
Critic Reviews for Ringu (Ring)
Audience Reviews for Ringu (Ring)
½
With a bizarre and creepy idea involving cursed technology, this is a very effective horror movie that manages to be tense and disturbing as time starts to run out for the characters, and it has a terrifying scene in the end that should raise every single hair on the back of our neck.
Carlos Magalhães
Super Reviewer
½
[img]http://images.rottentomatoes.com/images/user/icons/icon13.gif[/img] It's saying something that most people would find peculiar, but I found Ringu to be very problematic and consequently inferior to Gore Verbinksi's American remake "The Ring". One of the difficulties with inspirations and remakes is you have to consider which film is superior, but sometimes it's just a matter of which film you saw first and strangely enough I couldn't decide if it was the fact that I saw 2002's The Ring before Ringu that altered the experience or whether it's down to the fact the film simply isn't as eery or atmospheric. I think the idea of Ringu is absolutely genius and inspired The Ring to go further with the premise but I felt it was more compassionate and less isolating than Verbinski's film, and it hasn't aged very well either. The remake also added some shocks to the story, Ringu has dissapointingly near to none, and I found this version ashamedly dull. I'd definetely be lying if I said that there's nothing redemptive in it whatsoever, the acting is decent, as is the script and direction, I didn't think the lighting worked very well, but if you haven't seen the 2002 version then you will probably enjoy Ringu more than I did. That said, i'd recommend it to those who haven't seen the remake as I would recommend the remake to those who haven't seen the original. It's a strange horror movie going experience when you get the weird sensation of deja vu, because the remake looked to me like it duplicated this almost entirely frame to frame. The Ring (2002) is one of the scariest films i've ever seen, maybe that's why this one didn't live up to my own personal expectations.
Directors Cat
Super Reviewer
Interesting blend of Victorian-esque old timey creep with some modern twists as a reporter and her college professor ex scour the Japanese countryside for clues to an urban myth that just couldn't be true, it couldn't be, that'd be ridiculous, wouldn't it? Though not the scarey advertised, it'll do, all right, it'll do.
Kevin M. Williams
Super Reviewer
Ringu (Ring) Quotes
There are no approved quotes yet for this movie.
Discussion Forum
Discuss Ringu (Ring) on our Movie forum!