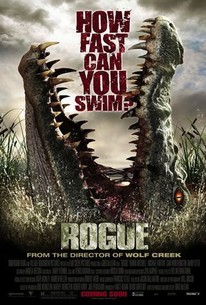 Rogue
2007, Horror/Mystery & thriller, 1h 32m
18 Reviews
5,000+ Ratings
Where to watch
Rent/buy
Rent/buy
Rent/buy
Rate And Review
Movie Info
Rugged American adventure-travel journalist Pete McKell (Michael Vartan) joins a cruise along a crocodile-infested river organized by tomboyish guide Kate Ryan (Radha Mitchell). As if dealing with their fellow travelers -- including obnoxious wannabe photographer Simon (Stephen Curry) and bratty British teen Sherry (Mia Wasikowska) -- wasn't enough aggravation, soon Pete and Kate must match wits against an enormous 25-foot croc that seems cleverer than most.
Rating: R (Some Creature Violence|Language)

Genre: Horror, Mystery & thriller

Original Language: English

Director: Greg McLean

Producer: David Lightfoot, Greg McLean, Matt Hearn

Writer: Greg McLean

Release Date (Theaters): limited

Release Date (Streaming):

Box Office (Gross USA): $7.7K

Runtime:

Distributor: Third Rail

Production Co: Dimension Films, Village Roadshow Pictures

Sound Mix: DTS, Dolby Digital
News & Interviews for Rogue
Audience Reviews for Rogue
Let me start of by commending the cast of Rogue; made up of John Jarratt (Wolf Creek, Picnic at Hanging Rock and The Final Winter), Stephen Curry (The Castle, Thunderstruck, The Wog Boy and The King), Radha Mitchell (Silent Hill, The Crazies, Surrogates, Pitch Black and Man on Fire) and Sam Worthington (Somersault, Thunderstruck, Macbeth, Terminator: Salvation, Avatar and Clash of the Titans). Every one of these Aussies are worth their weight in Golden Globes. It's as much of a different a role that John Jarratt could really have from Mick Taylor in Wolf Creek. But he pulls off this (relatively small) role in outstanding stride, as do the rest of them. Every actor bar Michael Vartan (Alias, Kitchen Confidential and One Hour Photo) is Australian (though Vartan did get a Southern Cross tattoo after starring in Rogue) and yet half of the characters are international tourists, which just goes to further show their acting mettle. Creature-Features are pretty standard horror fair, and there's enough DVD's about giant crocodiles to kill a hundred zombies vinyl-Shaun of the dead style. But Rogue does it like no one else does. The cinematography and soundtrack brilliance from Wolf Creek shines through. No film has ever pulled off a plot like this in quite such a unique and clever way. You don't actually get to see any more of the croc than its tail until over half way through the film (when it's already demolished 2 boats and killed 5 people) which I'm sure the community at large will take any excuse to complain about, but I think it works perfectly for Greg McLean's film. Rogue is not a big-buck picture, but it's not what you've got to work with, it's how you work it, and he knows exactly what the fuck he's doing. If you can't make the creature look overwhelmingly realistic, then don't concentrate on the creature. He brings the fear without ever having to show it on screen, and the fact that you wait so long for its appearance just makes the crocodile all the more brutal and frightening when you eventually do. Proving once again that the Australian outback is a terrifying place to be, Greg McClean brings out the best giant-croc film there is, and makes it believable. Too often we're put through the light-hearted mediocrity of Lake Placid and Black Waters, or the the dull waste of potential seen in Primeval and Eaten Alive. Here we don't have the evil paramilitary forces who've made a super croc intent on killing all humans with its diamond teeth and acid breath, it's just a 7 metre beast (living crocodiles have been recorded at over 8m long) that's territorial as Hell. There wasn't quite zero problems, there characters weren't quite as tight as they were in Wolf Creek, some of the timing was off and the CG wasn't that great (above) although it was better than most Creature Features around, and the use of puppets and real crocodiles helped remedy this. The gore is about as minimal as it gets, in fact if anything I would have gone for more kills, so nobody should be that offended by its content (they're even super-respectful of Arnhem land). Greg McLean is a genre force to be reckoned with, and I can't wait to get my hands on Red Hill (even though he's only producing, I even more can't wait to see what he comes up with next). -Gimly

[img]http://images.rottentomatoes.com/images/user/icons/icon14.gif[/img] It would have been nice to see Greg McLean add to the man-eating monster movie by offering something more than the standard fare. He made a great splash on the scene and took the typical cat and mouse, rape and run flick and created some insanely nerve-wrecking suspense with Wolf Creek which is a very tough, massively under rated horror film. When I first saw that film it absolutely terrified me, and in addition he demonstrated just how much he loves genre cinema. But with Rogue all he actually does is show how much he adores horror. At first it would have seemed ideal for McLean to make a 'SyFy' style monster movie and although Rogue boasts some pretty suspenseful moments generally it doesn't add up to very much. It starts off pretty boring and tedious but eventually picks up after the 40 minute mark. It boasts some great acting from it's unknown cast and some dazzling creature effects. It's also shot with directorial style and features a satisfying finale. Put it this way if you've seen as many clumsily built B movies about man-eating crocodiles as me you'll take great pleasure in watching Rogue. However I expected more from Greg McClean because he really knows how to perfect tremendous horror. I did take a liking to the film because it's executed with good intentions and respectability but it's utter unremarkability bothered me quite a bit. It's not his best film by a fair bit, but all the good things about it make up for everything else. Which includes great gore, eery atmospherics and the beauty of quiet suspense.

Rogue takes time to develop but it quickly turns into a great horror movie with some great thrills and scares. I was very impressed with the special effects on the crocodile. Greg McLean (director of "Wolf Creek" is continuing to stamp in his name in the minds of Australian cinema goers. The film also boasts a great cast with Radha Mitchell, John Jarratt, and Sam Worthington.

Ever wonder what one of those cheesy SyFy channel movies would be like if they: A: Had better writers. B: Had a bigger budget. C: Could attract better actors. Welll wonder no more! While the basic story is about as interesting as a made for SyFy movie...that is where the similarities end. This film is beautifully shot, has decent dialog and character development and is quite intense at times. Radha Mitchell and Michael Vartan are pretty solid as the two leads, while Sam Worthington and Mia Wasikowska (who are two fairly "big names" now) pop up in smaller roles. All in all a decent film.
See Details