Room 237
(2013)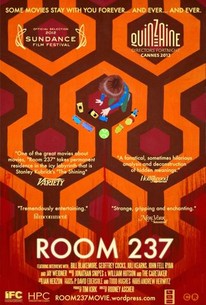 Movie Info
Many movies lend themselves to dramatic interpretations, but none as rich and far ranging as Stanley Kubrick's The Shining. In LA filmmaker Rodney Ascher's ROOM 237, we hear from people who have developed far-reaching theories and believe they have decoded the hidden symbols and messages buried in the late director's film. Carefully examining The Shining inside out, and forwards and backwards, ROOM 237 is equal parts captivating, provocative and pure pleasure. It gives voice to the fans and scholars who espouse these theories, reworking the film to match their ideas and intercutting it with layers of dreamlike imagery to illustrate their streams of consciousness. Sometimes outrageous, always engaging, the words of the interviewees are given full force by Ascher's compelling vision. Also featured at the 2012 Sundance, Cannes and Toronto film festivals. Opens in March 2013 through IFC Midnight. (104 min.)
News & Interviews for Room 237
Critic Reviews for Room 237
Audience Reviews for Room 237
Several people with ideas and theories as to what Kubrick might have really meant when he made The Shining. Pretty good coffee table conversation, but the film, like the several theories presented, lacks cohesion. No one idea makes a lasting impact, a hodgepodge of snippets of thought, the central theme (if any) being that Kubrick was one bright s.o.b., so he had to've hidden secret meanings into his work. He must've. Right? Right? "Waiter, more coffee over here please."
Kevin M. Williams
Super Reviewer
½
This pathetic and very silly mishmash of theories may be amusing for a while, especially for the most passionate cinephiles and fans of Kubrick's film, but there is no denying that they are mostly laughable rubbish, sloppily put together and never coming to a whole.
Carlos Magalhães
Super Reviewer
"Some Movies Stay With You Forever... And Ever... And Ever" From purely a subject matter point of view, Room 237 is heaven for me. I, like the interviewees, always find myself going back and looking at all the little details of The Shining. Every time I re-watch it, I end up surfing the Internet on different theories, so seeing that a documentary was actually made on this subject really sucked me in. While I enjoyed Room 237 based on my personal love for The Shining and all of Stanley Kubrick's complicated works, it could have been better. I didn't really care for the style of it. We didn't get to see any of the interviewees, as their voices were just voiceovers of endless scenes of movies. A lot of the scenes were obviously from The Shining, but there were other Kubrick movies, as well as just other movies shown for the whole runtime. I didn't really care for that aspect of it at all. Overall, this is an okay movie, but you have to be really interested in the movie to get anything out of it. A lot of the theories seem kind of crazy and a lot of the details they get into don't seem all that important, but as a starting point for making your own opinions about what all the below the surface details of the Shining mean, this is a cool little film.
Melvin White
Super Reviewer
Room 237 Quotes
There are no approved quotes yet for this movie.