Rooster Cogburn
(1999)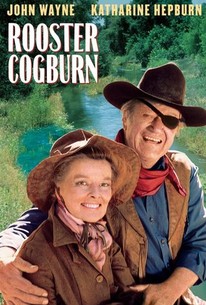 Movie Info
John Wayne returned to the role that won him an Oscar in this sequel to the western classic True Grit. Rooster Cogburn (Wayne) has once again been stripped of his badge after some questionable behavior with his gun, but he's given the chance to earn it back after an especially appalling crime demands an experienced lawman. A gang of violent and ruthless criminals, led by Hawk (Richard Jordan) and Breed (Anthony Zerbe), have stolen a shipment of explosive nitroglycerine and cut a swath through a village led by a preacher and his flock. The preacher died, along with many others, and his daughter, Eula Goodnight (Katharine Hepburn), is determined that the outlaws will be brought to justice. Cogburn is given the task of tracking down the criminals, but he's less than enthusiastic about the fact Goodnight insists on tagging along. Rooster Cogburn marked the first (and last) time John Wayne and Katharine Hepburn would work together on screen; it was also the final film from noted producer Hal Wallis. ~ Mark Deming, Rovi
Critic Reviews for Rooster Cogburn
Audience Reviews for Rooster Cogburn
The star and main character of True Grit meets the star and character of The African Queen, and together, they pursue bad guys in the old west. This film is problematic on several levels. First, I've never been a fan of Katharine Hepburn. Her voice sounds like a car that fails to turn over, and there isn't much variety - especially in this role - going on in her characters or how she embodies them. I know that Hepburn fans will bring up her classic roles in protest and say that I shouldn't blithely dismiss a so-called "screen legend," but I don't give a fuck. Here, she's annoying, and the film sympathizes with her character enough that I don't think the annoyance her character produces is always intentional. Second, as in most westerns, Native Americans and women are portrayed in uniformly subservient terms. Yes, Hepburn's character is occasionally put in a position of power and strength, but she is also de-sexualized - beyond childbearing age and constantly spouting pious jibber jabber. And of course, there is a Native boy whose only dream is to be a Marshall, but he fears that his Native-ness will get in the way, ignorant that a part of his job would be to "civilize" the "savages." Finally, the plot is basic and predictable. Eula and Rooster exchange barbs, and each gains a respect for the other in the end, and then bad guys are killed. Everything you thought would happen does. But what's at issue is the fact that we never think that either of the characters could be substantively changed by their interactions with each other. Rather, the dialogue becomes an exercise in vocalizing and characterization without real human interaction. Overall, I think if you enjoyed the characters in African Queen and True Grit, then you might enjoy seeing them again, like meeting old friends, but don't expect much in the way of a real, character-driven story.
Jim Hunter
Super Reviewer
Kate and Duke are surprisingly well matched in this unexceptional western elevated by their presence.
½
A nice follow-up to the original True Grit, although it didn't feel quite as gritty. Rooster Cogburn as a character is a lot softer and more humane than he was he was in the first film, but the film is a lot of fun and, again, more akin to a road movie.
Tim Salmons
Super Reviewer
Rooster Cogburn Quotes
| | |
| --- | --- |
| Rooster Cogburn: | fill your hand you son of a bitch |
| Rooster Cogburn: | Fill your hands, you son of a bitch! |
| | |
| --- | --- |
| Rooster Cogburn: | Are you alright, sister? |
| | |
| --- | --- |
| Eula Goodnight: | I fear not what man can do to me. |