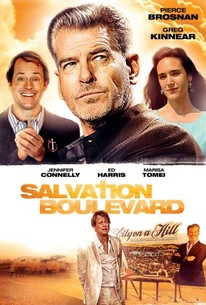 Salvation Boulevard
2011, Comedy/Drama, 1h 36m
36 Reviews
1,000+ Ratings
Where to watch
Rent/buy
Rent/buy
Rent/buy
Rate And Review
Salvation Boulevard Photos
Movie Info
A man (Greg Kinnear) becomes the target of a fundamentalist preacher's (Pierce Brosnan) minions after he sees the preacher accidentally shoot an atheist.
News & Interviews for Salvation Boulevard
Audience Reviews for Salvation Boulevard
"Salvation Boulevard" starts with a debate between noted atheist intellectual Peter Blaylock(Ed Harris) and Pastor Dan Day(Pierce Brosnan) of the Third Millennium Church. After the show, Peter and Dan have a drink in Peter's office where Dan accidentally shoots Peter with an antique gun, which is witnessed by Carl(Greg Kinnear), one of Dan's followers. While Dan seeks to cover it up before having a terrible experience watching a Tom Cruise movie, Carl tries to do the right thing which leads Jerry(Jim Gaffigan) to try to go old testament on him. "Salvation Boulevard" is a frustrating near miss that a game cast does what it can with sketchily drawn characters but to no avail. Evangelical religion is such low hanging fruit these days that one has to really work at it to have something new to say, and a multiplex showing religious films will just not cut it. And you know you're in trouble when the best laugh of the entire movie and perhaps the only true one comes in the endnotes.

The film was a bit of a mess. They had a good idea for a film but didn't execute it correctly. The film needed a rewrite. I felt some of the actors were miscast, like Greg Kinnear.

Consensus seems to be "Great cast, not much else." I disagree! With the second part, that is. I don't think audiences (and critics) missed the point, but I think they might have been in the wrong frame of mind. It's a dark comedy that finds its humor in the situations rather than sight gags. I wasn't laughing outwardly very often but I was grinning inwardly as ex-Deadhead Carl (Greg Kinnear) witnesses his personal savior, popular pastor Dan Day (Pierce Brosnan), accidentally shoot his intellectual rival Dr. Paul Blaylock (Ed Harris) and then attempt to cover it up as a suicide. Brosnan gives his finest performance I've seen as the charismatic church leader who convinces himself that the shooting is all part of God's plan and takes measures to ensure that no one learns the truth. Supporting ladies Marisa Tomei and Jennifer Connelly are a lot of fun. Tomei is Honey, a former Deadhead-turned-campus security guard who has a kinship with Carl and becomes his confidant when his devout family cannot believe his story. That resistance is led by Connelly who once again does great work as Carl's wife by playing her as a straight arrow - she isn't playing for laughs but gets them anyway where designed (particularly the scene where she meets Honey on the roadside and has to be restrained by the police). I would really like to see how she performs in a broader comedic role, which is a field she has not really ventured into. Food for thought, Jen. The script contains some sharp observations about religion, and it's not just about taking potshots either. The opening scene between Dan and Paul presents a fascinating 5 minutes, I could've watched them debate the presence or absence of God for a whole hour. So an excellent cast, quality script, and funny story amounts to a dark comedy horse that might surprise you. Have a little faith!

For Carl, salvation turned out to be a tight squeeze! Good weird easily offending movie! The story of a preacher gone bad, a dead head turned believer, and a cast of character actors that are very well cast. It's a slapstick of a film, but we live in a world where that isn't enough. Great funny lines, incredibly fun acting. If you are looking for a fun night and need a video, this is it. I have to imagine this film might be more successful over time, and as people discover it. If you are a born again Christian, this might not be your cup of tea. Set in the world of mega-churches in which a former Deadhead-turned-born again-Christian finds himself on the run from fundamentalist members of his mega-church who will do anything to protect their larger-than-life pastor.
See Details