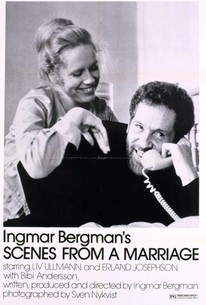 Scenes From a Marriage
1973, Drama, 2h 48m
23 Reviews
5,000+ Ratings
Where to watch
Subscription
Rent/buy
Rate And Review
Scenes From a Marriage Photos
Movie Info
Johan (Erland Josephson) and Marianne (Liv Ullmann) are married and seem to have it all. Their happiness, however, is a façade for a troubled relationship, which becomes even rockier when Johan admits that he's having an affair. Before long, the spouses separate and move towards finalizing their divorce, but they make attempts at reconciling. Even as they pursue other relationships, Johan and Marianne realize that they have a significant bond, but also many issues that hinder that connection.
Rating: PG

Genre: Drama

Original Language: Swedish

Director: Ingmar Bergman

Producer: Lars-Owe Carlberg

Writer: Ingmar Bergman

Release Date (Theaters): wide

Release Date (Streaming):

Runtime:

Distributor: Criterion Collection, Cinema 5 Distributing

Sound Mix: Mono
News & Interviews for Scenes From a Marriage
Audience Reviews for Scenes From a Marriage
Your mileage for Bergman's incessant probing of these characters may vary but that's ultimately what makes the ending work so well. Ullmann and Josephson are taken apart and put back together so often that you come to deeply understand their perspectives.

Originally aired on television as a six-part miniseries, Ingmar Bergman's "Scenes from a Marriage" is an epic chronicle of the on and off marriage between Johan (Erland Josephson) and Marianne (Liv Ullmann), two middle-aged professionals, and how their relationship, throughout the years, has transitioned from the superficial to the heavily conditional to the beautifully transcendental. The film, which is Ingmar Bergman's highly intelligent and realistic examination of the complexity of modern marriage, is, so far, the most honest and thorough 'marriage' film that I've ever seen. And thanks to the neutral emotional reality that the film has presented, I was able to watch the film objectively and without any gender-related predilections. The film, after all, is never about some sort of war between sexes. What "Scenes from a Marriage" is in fact all about is the idea that giving up on a marriage doesn't necessarily mean that you're also giving up on love. Sometimes, as what the film ironically and controversially suggests, to remove oneself from the conventions of a superficial marriage may result on love in a deeper context. Johan and Marianne, two romantic souls who initially thought that they have grown tired and contemptuous of each other and that they can be happy again in the arms of other people, have discovered, in a very hard way, that it's not each other that they are tired of but the mere shackles of their humdrum of a marriage; and that in the end, even though it's some other people they want, it's only each other that they truly need. Highly unusual for Ingmar Bergman, "Scenes from a Marriage" never delves into visual and thematic profundity perhaps because its ideas are expressed not through stunning images and moods but through spoken words. Even Sven Nykvist, known for his masterful, almost dream-like approach to cinematography, takes on a more urgent and simple style for this one. After all, with this project, it was Bergman's utilitarian intent to reach a wider audience, and indeed, he has succeeded; so much that he was ultimately forced to change his telephone number so as to avoid countless random calls from couples seeking marriage advice. As for the performances, it's but given for both Liv Ullmann and Erland Josephson (both Bergman regulars) to deliver multifaceted performances that are as incendiary as they are tender. And although by no means am I saying that both Ms. Ullmann and Mr. Josephson are unattractive (Ullmann is in fact one of the most luminous faces in all of cinema), they have both embodied the personalities of the married couple in a way that they wouldn't care less on how they would look in a dingy pajama or in a business attire. Unlike other 'marriage' films nowadays where actors are chosen based on their looks and how their face values would help in endearing the story to the audience, which almost always results in disastrous alienation, "Scenes from a Marriage" begs to differ. By presenting Johan and Marianne in a very non-special way, both physically and emotionally (they were even branded as 'emotional illiterates'), the audience, with its television success as withstanding proof, were able to connect easily with the couple in all their vulnerabilities and imperfections. "Scenes from a Marriage", with its almost 3 hours running time, may prove to be quite infuriating to watch for some, especially because of the fact that it's a dialogue-driven, often visually static film. But do watch it for the performances, the energy and the insights. Believe me, it will be one of the most realistically introspective films you'll ever see about relationships and, ultimately, about love after marriage. This is Bergman channeling his inner marital therapist, and he does not disappoint.

Possibly one of the most accurate films about the beginnings of the end of marraige and the circumstances that bring it about. You can imagine similar stories unfolding among couples that reach a breaking point in their relationships. One of Bergman's finest.

Six episodes over the course of one relationship, Scenes from a Marriage can be cruel, uncomfortable and embarrassing, but, ultimately, it is honest. The film is sparse, keeping to the main two characters for most of the running time while the half hours "scenes" prevent the audience from getting away from the drama. In that regard, Bergman helps the viewer to feel the same sense of hopelessness the characters do. Is this a film for everyone? No. It's nearly three hours, deals with some uncomfortable subjects, tends to the emotionally raw and is subtitled. But the craft on display, the concept, the guts to do present this information...most likely a must for film fans.
See Details